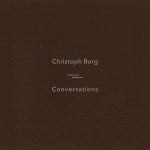 Christoph Berg, the man formerly known as Field Rotation, has released music under his own name for quite some time now. The change is also reflected in his music: a slow drift from atmospheric ambient into more contemporary classical music, putting the string arrangements in the foreground (Berg plays the violin, double bass, organ and piano on this album).
It's not a radical change, however: the music is still very atmospheric, with 'ambient' backgrounds, drones and subtle effects. It's still recognisable as genuine Christoph Berg: subtle, withheld arrangements in a perfect production. Music that feels very 'personal' and intimate.
Conversations is released by Sonic Pieces – the 'boutique record label' from Berlin. If you know the label, you know that's a quality guarantee for musical content, production standard as well as for a stylish physical (limited) edition.
The tracks 'essentially express contemplation, consciousness and the urge for retreat from the sometimes overwhelming present times'. It is fragile, comforting  and intimate music, but also heartbreaking sad at times. Apart from referring to Conversations, Monologue and Dialogue, the titles refer to Memories, Grief and Farewell. But it's a beautiful melancholic kind of sad, not a really sad kind of sad…
The title track of the album has a somewhat disruptive effect: the amplified sound of the piano and organ's mechanic pedals and the wood that the instruments are built with. Including the mechanical sounds of an instrument while playing is not new, of course, we're used to it ever since Nils Frahm (among others) introduced this way of recording his piano. But here, Christoph Berg puts the sound in the foreground, amplifying it more than usual, until it feels like a strange, out-of-place sound. Even more so because the sound is not clearly related to the piano or organ: the string instruments play the lead part. It's a confusing effect, sounding like clockwork, as if to remind us we only have limited time to have the important conversations before it's time to say farewell…
Sidenote:
For those that can appreciate a more classical sounding approach it may be interesting to know that Christoph Berg also released Bei, a collaboration album with pianist Henning Schmiedt: "a collection of instant compositions based on first takes that have been recorded in several improvisation sessions, intentionally opposing the habits of classical music by praising the beauty of imperfection.. "
---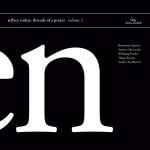 This is, of course, the follow-up to Threads of a Prayer Vol. 1.
Volume 1 presented two different kinds of instrumentation: one CD with compositions for piano and another with compositions for string ensemble. In this respect, Volume 2 seamlessly continues this concept, but this time on one single CD that "takes the listener even deeper into Roden's mind – towards a space he refers to as 'the other place'".
The album opens with two pieces for string ensemble (The Field and As We Rise Up) and then continues with two pieces for solo piano (Threads of a Prayer and 6 Pieces for the Unknown).
The music is taken from the same sessions as Volume 1: "the same mood of introspection. Fragility and immediacy also prevails here".
The album breathes the same 'intensely quiet' atmosphere, the same mindful calm. But it also introduces new instrumental aspects such as the drone organ in As We Rise Up (performed by Tobias Fischer).
All of these compositions radiate an immersive calm that may be unsettling to some.  In the second half of the album, the piano solo compositions (performed by Sandro Ivo Bartoli) the silence-between-the-notes become more important than they ever were.
Jeffrey Roden's music has been compared to that of Arvo Pärt and Morton Feldman for obvious reasons. But to be honest Arvo Pärt feels like a speedfreak when you're listening to Threads of Prayer and 6 Pieces for the Unknown.
In these hectic times, it may take some getting used to music that feels "monumentally long and almost outside of time"… which is exactly what Jeffrey Roden is aiming at.
Moments of reflection and mindfulness like this might be one important thing the world needs today.