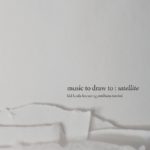 No matter what specific genre you're into, there's always that moment that 'sameness' begins to bother you a bit. Too many people copying the familiar sounds, too few people pushing the boundaries. That is the moment that you'll welcome a fresh wind, an album displaying an original point of view,  an unexpected surprise. Music to Draw To is such a surprise (at least for me).
The album title in itself refers to many classic ambient albums. It's a reference to the live events where Kid Koala (Eric San, from Montreal) played his music while he invited the audience to draw. You can take this literally, too: the Deluxe CD version comes with a hardcover sketchbook.
But who would expect the scratch DJ/turntablist, known for his Ninja Tune albums and his live-sets with Radiohead, Beastie Boys, Arcade Fire, DJ Shadow and many more, would completely leave out the samples in favor of synthesizers, keyboards and guitar to create an album full of (18) atmospheric ambient pieces?
Music to Draw To is also the start of a new series featuring different vocalists, with Kid Koala writing and producing and performing.
The guest vocalist on this particular album is Emiliana Torrini, whose whispering dreamy voice and endearing Icelandic accent adds an irresistible romantic flavor to the seven songs on this album that feature her. Songs that "tell a tale of discovery and loss through the lens of lovers separated by an early space mission to Mars".
It's 'ambient-pop', more than 'ambient' by its strict definition.
But who really cares if it's also music to make you dream? … Ánd draw?
---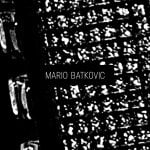 I saw many concerts at last year's Le Guess Who festival in Utrecht, but the performance of Mario Batkovic was one of the most impressive I attended.
A Bosnian/Swiss guy, performing his solo work on his Zerosette Accordion to an audience that probably hardly knew what to expect apart from what they read in the festival program notes.
In Batkovic' hands, the accordion sounds as powerful as a full orchestra. You have to look twice to check that he is only using his two hands… and then again to check that there really are no additional effects or electronics.
He filled the church completely with his majestic sound, and received  a well deserved ovation from a stunned audience.
This picture perfectly captures the experience (photo by Tim van Veen):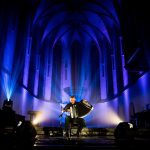 To give an impression of his mastership, here's a video from an intimate session on the Eurosonic/Noorderslag festival in January 2017 (with thanks & credits to 3voor12):
Batkovic's album was first released in 2015 on the Veruston label as "Solo". It has been almost impossible to find until now, unless you were lucky enough to attend one of Batkovic' performances.
Fortunately it is now (re-)released on Invada Records – including two additional tracks: Semper and Eloquens.
Most of the compositions on this album are built upon repetitive themes, in a way that reminisces the minimalist work of Philip Glass – but with the accordion as the full ensemble packed into one single instrument.
If you (like many) unfairly think the accordeon is an uncool instrument, not suitable for performing exciting music, this album proves you're wrong.
And if you experience Batkovic performing live, without the help of any additional effect, you will realise you were VERY wrong.
Note: the Bandcamp link only offers the digital download version. Check the Invada site to obtain vinyl/CD version.