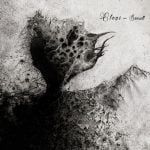 Ten years after his chilling debut Sistereis (and eight years since Varde), Elegi is awakened from his slumber by the curators of the Dronarivm label in their search for "unsung melodies from our century".
Tommy 'Elegi' Jansen (from Norway) claims Bånsull is an old and rare Norwegian word for lullaby.
But you'd better not fall asleep to this music: it'll probably be the soundtrack to your most frightening nightmares.
"Folk tales from around the world that have scared small children for centuries. When I became a father some years ago it was only natural for me to write my own bedtime stories to lull my baby to sleep. For some strange reason these gave her nightmares and she did not sleep for years."
Let this be a warning to you: you cannot un-listen this!

---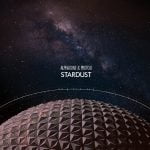 ALPHAXONE & PROTOU – STARDUST
When released on Cryo Chamber, you can bet it's dark. And cold, like the label name suggests (though the label is now based in Oregon, USA, its roots are from Sweden).
Not 'dark ambient' in the inverted new age sense, with chanting monks, church bells and such nonsense, but dark in a fascinating way. Let's call it IDM –  Intelligent Dark Music.
Alphaxone (Mehdi Saleh, from Iran) and ProtoU (Sasha Cats, from Kiev, Ukraine) work together on this spacey album that helps you 'float weightless into the void to the sound of exploding supernovas.'
The 'exploding supernova' bit suggests a collection of loud explosions, but actually this album has the trance-inducing calmness and timelessness of endless space travel.
'Recommended for lovers of space ambient and old school science fiction soundtracks.'

---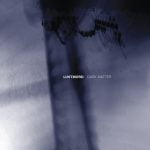 A bit late to the party, perhaps: this album was released september 2016. But while on the subject of dark and space, we simply cannot ignore this gem. After all, Brian 'Lustmord' Williams is widely credited as the originator of the Dark Ambient genre!
The vast expanse of the Universe, 'far larger than we are able to comprehend', was the inspiration for this album.
Three long-form tracks (Subspace, Astronomicom and Black Static) created from sounds derived from an audio library of cosmological activity, gathered from sources like NASA, The Very Large Array, National Radio Astronomy Observatory and more.
"Behind the world that we experience lies a veil of darkness and much is hidden between, beyond and unseen."
Created from the sounds coming from space – the sound that 'exists as naturally occurring electromagnetic vibrations', coming from sources like 'interstellar plasma and molecules, radio galaxies, pulsars masers and quasars' – the ambience of this album is dark but not scary.
After all:  'The universe began of darkness, not light.'
Dark Matter is enigmatic yet comforting. And a spacey dark ambient classic.