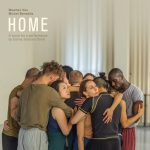 MICHEL BANABILA + MAARTEN VOS – HOME
Michel Banabila's musical tree has many roots. Those of you that have checked out his back catalogue (and I hope most regular readers have done), know that it includes experimental electronics, as well as world fusion, jazz, and many productions for theatre, dance, movies and documentaries.
Every branch of his output is interesting in its very own right, but I dare say that his work for theatre and dance productions may often be his most emotionally engaging, as well as the most accessible for audiences not particularly used to 'experimentalism'.
There's an impressive list of his work for theatre [here], in case you might know (listing in Dutch).
In the past Banabila  has regularly worked with Conny Janssen for her well-known dance ensemble Conny Janssen Danst. For their 25th anniversary production Home -currently touring the dutch theatres extensively-  she asked him to create the music in collaboration with Maarten Vos, and play it live at every performance.
Maarten Vos is a classically trained Dutch cellist.  who also studied Live Electronics. His work combines the two musical areas, merging the two disciplines into a new one. He has collaborated with many other artists such as Julianna Barwick, Greg Haines, Loney Dear, Machinefabriek, The Kyteman Orchestra, and now of course with Banabila. 
Both artists worked together intensely preparing the soundtrack for Conny Janssens' anniversary production, and their work is captured on this CD which is currently available at the performances. And hopefully – if stock permits – after the tour has ended.
Even without attending the dance performance it was written for, it's an impressive and diverse soundtrack. A golden combo of electronics and cello  (Maarten Vos is a cellist primarily, but with a soft spot for modular electronics too), capable of conjuring a  multitude of emotions with diverse musical styles.
Their music constantly evolves, so it is doubtful that the music on the last performance will be the same as on the first. As mature and complete as the music on this album may sound, the music captured on CD can be seen as a 'basic draft', simply because the CD had to be manufactured before the tour started. This means that the music will have evolved further and some of the tracks will have seen many reworks over time.
Banabila and Vos have found a solution for this: after the tour ends, the music will be made available via Bandcamp in different versions: a complete version (containing the full CD version and various reworks), and an 'additional' version containing the reworks only (for those that have already bought the CD version at the CJD performances).
All this, of course, is about the music soundtrack only. But if you read this before the tour ends and live anywhere near Holland, I advise to go see one of the performances for the full Conny Janssen Danst experience. (If tickets are still available, that is).
For all others: keep an eye on the Bandcamp page to see when the full edition is released (which will be the first week of may).
---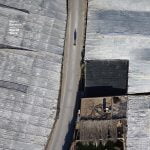 Sound Years is a compilation of previously released tracks (with the exception of the previously unreleased opening track Close To The Moon). All are hand-picked by Michel Banabila himself and mixed into two continuous tracks – one for each side of the vinyl album. The selection is taken from various projects: some of them from theatre works, some of the more recent experimental electronic music, an occasional live recording, and a selection of his collaboration works with Oene van Geel and Rutger Zuydervelt (Machinefabriek).
The oldest tracks are taken from 2005's Hilarious Expedition, the newest are from 2016. They are selected to create a continuous uninterrupted flow.
The sound is immediately recognisable as Banabila's – especially in his trademark use of 'alien vocal' samples (like in E.T. and Vuka Vuka!).
The set is a perfect demonstration of Banabila's mastership of creating moods and atmospheres. A soft, warm, comfortable selection that is slightly unnerving and 'outerworldish' at the same time.
Sound Years can perhaps be seen as Banabila's companion to KLF's 'Chill Out' album: a slow walk through quiet (yet alien) landscapes. Unknown, full of surprises, yet always vaguely familiar.
Banabila has claimed that this could very well be his last physical release before going 100% digital. I wouldn't take his word for that myself, but if it is, this beautifully packed (transparant vinyl) album (with a striking cover photo by Gerco de Ruijter) is a 'perfect goodbye' to the vinyl medium.
Purchase of this transparent-vinyl album comes with a download that includes the unreleased Close To The Moon track as a separate bonus track.
DOWNLOAD CODE GIVEAWAY:
The vinyl version of this album is available now (and selling fast), but the digital-only version of this album will be released on March, 21.
Three free advance download codes are available for commenters that answer one of these two questions below:
Who would you like to see Banabila collaborate with?
Can you take a guess about his favourite fruit?
Entries close sunday february 26!
Winners will be drawn randomly.
Thanks to Michel Banabila for providing these download codes!