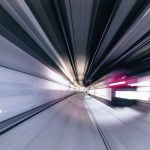 Terminus Drift is released on the Subtext Recording label, which is also the home of Paul Jebanasam. That's is no coincidence: both sound artists use the same kind of methods to create their overwhelming and ineluctable soundscapes.
Played at the appropriate level (which means 'loud'), it feels as if you're witnessing something larger-than-life..
Jebanasam's 'Continuum' feels as if you've become a part of  the Big Bang (especially in a live setting, with visuals by Tarik Barri). But Joshua Sabin's focus is the universe close by: he exclusively uses field-recordings captured in transit through Kyoto, Tokyo and Berlin, in addition to electromagnetic field recordings captured in Glasgow and Edinburgh.
"Sirens reverberating through station tunnels, fluctuating harmonics of subway engines, echoing tannoy systems, piercing screams of electromagnetic fields."
However, this does not mean the sound will be more familiar to you everyday life. It's a disruptive and unpredictable trip that feels like you're exploring outer space (or inner space, if you prefer).
Sabin reveals details that you never thought were here, and most of them are not exactly comforting.
So it's a good thing that the closing track, Eki, ends relatively calm, carefully returning the listener back to where he started.

---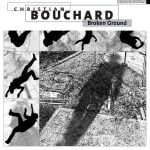 If you just listened to the Joshua Sabin album, I recommend you to keep your seatbelt fastened for this new album on Empreintes Digitales,  home of electroacoustic and acousmatic music, musique concrète, soundscapes, audio art and art sonore. 
Broken Ground was commissioned for the Broken Ground exhibition by Derek Besant, that has been presented on various locations since 2012 (in 2017 in Madrid, in 2018 in Tokyo). The exhibition "looks at seven cities over ten years, and how redevelopment infrastructure changes our perception of cityscapes. The collision of the imaging with Christian Bouchard's electronic soundtrack builds the exhibition installation into a hypothetical representation of the constant change cities are in over time, and how components leave traces or clues to the ones that might have existed here… Even in destruction, there lies the possibility for beauty and reinterpretation." 
The relation with cities, cityscapes and redevelopment infrastructure may suggest that the basic material for these soundscapes might be taken from environmental and location recordings. In fact there are no recorded sounds in Broken Ground – all sound sources are electronic. The sound samples were completely dissected and augmented to create a new sound environment to accompany the exhibition completing "a hypothetical representation of the constant change cities are in over time, and how components leave traces or clues to the ones that might have existed here…".
In 2016, the music was remixed to prepare it for this release.

Christian Bouchard – Resistant Materials
---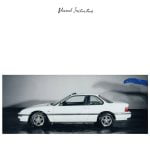 The bright white cover pictures a stylish, immaculate white car that is about to be hit by a wave of blue paint. This image, from Josephine Pryde's series 'Relax (blue)' was chosen 'as a materialization of tension'.
And tension is what is delivered on this album by electro-acoustic composer Yair Elazar Glotman, from the first to the very last minute.
It's as if a giant unknown creature is trying to break through the ground below your feet (… maybe better use your imagination to conjure your own fitting images).
"Blessed Initiative suggests a dissonant, coexistent state of extreme highs and lows. Opposite states coincide, contrast and reflect, creating moments of uncertainty and insecurity. Absurdity and at times even bliss are possible results."
Not an album to quietly fall asleep with… but of course it wasn't intended to do so. These intensely energetic compositions will probably raise your adrenalin level and that can be satisfying in its own special way. But I would definitely discourage listening to this album unprepared.