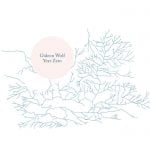 The Fluid Audio label has built itself quite  a reputation for their releases: for the quality of the music as well as for their luxury packaging. As a result, most of their releases are sold out before the official release date, on pre-order alone.
Since there was no sign of a digital release, I hadn't considered a recommendation of the new Gideon Wolf album, since no one would be able to buy the album by the time I wrote about it.
But things changed along the way: a small batch of physical releases popped up unexpectedly (some 25 at the time of writing, so not much left by now I guess), and the release was made available as a digital download on Gideon Wolf's Bandcamp page.
Gideon Wolf is the alias of Tristan Shorr, and Year Zero is his 4th album since 2012. It's a solo album, in a way, but it could not have come to life without the contributions of a small ensemble of artists that played improvisations or 'incoherent and strange phrases/notes' that were later reassembled into the resulting pieces.
The music could be labeled 'neo-classical', because of its instrumentation: a cello, two violins, a synth. But it's not the kind of melancholic cinematic music usually connected to this genre tag. The arrangements are much more abstract and adventurous, each track with a different sound balance, exploring different structures and string arrangements. Some are almost 'classical' or 'minimal', but most of the tracks explore a more ambient or experimental structure.
The closing tracks Noise and Nova introduce the additional vocals of Tristan's daughter and his 'partner in life and work' Rachel Champion. 
Working the other way around – composing pieces from instantaneous improvisations and a collection of short phrases – has  given this music a refreshing element of surprise. And it's exactly that element that makes this album stand out among many others.
Thát, ánd the luscious packaging of course.
But I won't spend too many words on that: you can simply check this page or check the original Fluid Audio release page for details.
The (25) beautiful photo prints included in the package are also included in the download set, which also includes a bonus track (so download it even if you bought physical) and some screensaver images.