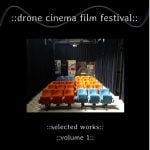 Apart from curating the recently re-launched Silent Records label and online stream (don't forget to check the recent releases of the From Here To Tranquility compilations vol. 6 and 7), Kim Cascone is also the dedicated curator of the Drone Cinema Film Festival. A low-key festival that has taken place in Seattle, Washington as well as in Leiden, Holland (the intimate little theatre that is shown on the cover).
It is essential to point out that in this case the drone refers to the  visual aspect of the (musical) concept of drone, not -or not necessarily- to the technical use of 'drone' cameras.
"Drone Cinema is the flotation tank of cinema", as someone pointed out. Or, in the words of Kim Cascone himself: transcendigital media:
"Transcendigital media is conjured through active imagination instead of software templates and presets."
Don't let the 'floatation tank' idea make you think that this is one of those new-age kind of things. Because it definitely isn't.
While some of the tracks máy feel like a warm immersive bath, there are also some tracks that are downright scary and/or industrial and/or culminate in an almost deafening noise.
Unless you're a seasoned connoisseur of the genre, most of the artists names will probably be unknown. But you can leave it to Kim Cascone to curate a selection that is a must-listen for anyone interested in experimental drone music, a sampler of what the most minimalist of music genres has to offer.
"Selected Works, Vol. 1" is not, as you might have expected, a DVD featuring the visual works. It is a selection of the audio tracks without their cinematic equivalents, and thus focuses on audio drones only. It is, by choice, only half of the concept. But that need not be a real problem because you can let your 'active imagination' serve the visual aspect, too.. I suggest staring into a bright light for at least five minutes, then close your eyes and start the compilation.
Most of the drones need their time to develop, and this collection is no exception. The fourteen tracks fill up two hours and sixteen minutes, which is why this collection is only available as a digital download and not in a physical form.

---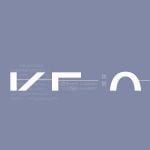 KENNETH KIRSCHNER – DATSUZOKU
To describe the music of Kenneth Kirschner and its impact, you'll need many words.
Or maybe not.
It's probably best to use the Yugen Art description of the meaning of the word Datsuzoku:
"One of the seven principles of Japanese Zen aesthetic. Freedom from habit or formula. Escape from the ordinary. Unwordly. Transcending the conventional.
The Feeling of surprise and a bit of amazement when one realizes they can have freedom from the formal."
And – if this description is still not convincing enough for you: it is a free download! (Like much of Kenneth Kirschner's music)
Kenneth Kirschner – October 13, 2001
---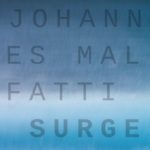 JOHANNES MALFATTI – SURGE
It starts almost unnoticed, with a barely audible white noise reminiscing the sound of a distant beach. But slowly the intensity increases and the waves become a surge. Pushed up and forward by the drone sounds that gradually take over, sometimes with a thundering mass of sub-low bass, at other moments sounding like a distant choir. A drone in constant movement.
The 58 minute Surge "is based on textural developments that evolve very slowly over time."
"Most processes in nature are too slow to be perceived by the human senses. We merely experience the ripples on the surface, like the passing of hours, days, of changing weather or trends in fashion. The all underlying stream of geological change, like the flow of glaciers or the drifting of continents, is outside our field of experience. However, some events bring these streams closer to the surface. In a glacial surge, the flow velocity of a glacier suddenly increases up to tens of meters per day, making the otherwise imperceptibly slow movement tangible."
These liner notes are not only a description of what inspired Johannes Malfatti, but also link the album to its label: Surge is appropriately released on the Glacial Movements label, celebrating their tenth anniversary of releasing 'glacial' music.
The Berlin-based Malfatti  graduated as a Tonmeister for audio-visual media and has collaborated with many musicians, choreographers and film directors for numerous film, television, theatre and music productions. This is his very first solo album release, and it's overwhelming and irresistible.
And glacial, too: you may better pull on an extra sweater or winter coat before you start listening.
---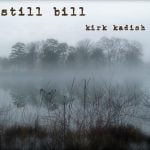 Four tracks with a total playing time of two hours and twenty minutes. The shortest 13 minutes, the longest 63. You might want to sit or lie down before enjoying this collection by Kirk Kadish from Sante Fe, New Mexico.
Kadish performs in many different styles (jazz, improv, electronica) , but for this ambient project he chose an original starting point: the music of Bill Evans.
"Three of the four pieces are based on his compositions but completely reimagined from a minimalist/ambient/meditational perspective".
I'm not familiar enough with the music of Bill Evans to name the compositions that this music is reimagining, and probably it is meant as 'inspired by' more than direct musical quotes. But the lush, unhurried and bright piano harmonies are a very refreshing approach to ambient soundscapes.
Add the warm  (Eno-esque) generative background synths, or a Terry Riley-like organ loop (in Some Other Time), and the result is a refreshingly fresh  – and literally timeless – ambient album …
A misty haze in daylight, instead of a thick foggy darkness..
Kirk Kadish is "happy to be free of any commercial restraints that would hinder his freedom in exploring the boundaries of our musical world".
Which means that he is offering these tracks to download for free, or the full album for $ 0,19.
Or More. My advise would be to pay some more.
Kirk Kadish – Blue In Green