JÓHAN JÓHANNSSON – ORPHÉE
Ever since his debut release Englabörn in 2002, Jóhann Jóhannsson has grown into one of the biggest names in contemporary classical music. In recent years he was especially sought-after to compose movie soundtracks – a natural progression, because from the start his arrangements and compositions had that 'cinematic' feeling.
He was awarded a Golden Globe, Bafta ánd Oscar for the score for The Theory of Everything, and similar honors for the Sicario soundtrack.
And it is Jóhann Jóhannsson that will be composing the score for the highly anticipated Blade Runner sequel (it will be a challenging task to match the original Vangelis score)!
Orphée is his first 'full studio album' (meaning: not a movie or stage production soundtrack) release in six years – since 2010's And in the Endless Pause There Came The Sound Of Bees.
Compared to his latest soundtrack (Sicario, a dark and brooding atmospheric soundtrack) it's a remarkable return to his original form. The use of electronics and 'number station' samples is somewhat reminiscent of one of his most impressive albums: IBM1401, A User's Manual. 
The fifteen pieces on Orphée are relatively short, but are supposed to be listened as a cycle that "traces a path from darkness into light, inspired by the various re-tellings of the old story of the poet Orpheus – a many-layered story about death, rebirth, change and the ephemeral nature of memory."

"The album is a reflection on change, memory, beauty and art, and ultimately celebrates the latter's power of renewal, while acknowledging the dark paths along which it can lead the artist."
Orphée is performed by Jóhannsson on piano, electronics, pipe – and electric organ, accompanying Hildur Gudnadottir (cello), the American Contemporary Music Ensemble and AIR Lyndhurst String Orchestra.
The album's closing track Orphic Hymn is a composition for choir using text from Ovid's Metamorphoses, performed by none other and no less than Paul Hillier's Theatre of Voices. A bit of a surprise, since this epilogue is quite different from all the tracks before. But, depending on taste, it may very well be the most impressive and beautiful piece of the album – ánd it's a nice transition to continue with Sven Helbig's album discussed below!
Jóhann Jóhannsson – Good Morning, Midnight
---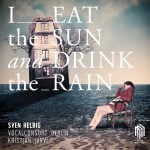 SVEN HELBIG – I EAT THE SUN AND DRINK THE RAIN
Promo introductions can be misleading. that's why I usually listen to an album and only read the info afterwards. But this time, I got the introduction before I could listen to the music.
The name Sven Helbig didn't ring a bell with me… and introducing him as Pet Shop Boys producer didn't help (never understood them) – and so I almost stopped reading. Some of the other artists he worked for – Rammstein, Snoop Dogg among them – proved he was a very versatile producer, but made me doubt this release would be an 'ambientblog' thing (whatever that may be).
But there was something in the description that cought my interest too: a neo-classical/electronica album, performed by Vocalconsort Berlin conducted by Kristjan Järvi, "blending delicate choral passages above pulsating synthesizers"?

I found out that Helbig not only had a lot of experience in popular music, but has firm roots in classical music too: a joint founder of the Dresdner Sinfoniker, the first European orchestra strictly performing contemporary classical music.
In 2013, Deutsche Grammophon released his Pocket Symphonies (which, by the way, is followed up with Pocket Symphonies Electronica this year).
First and foremost, I Eat The Sun And I Drink The Rain is a choral album. There are ten relatively short pieces, flawlessly performed by Vocalconsort Berlin.
There are no other instruments apart from accompaniment of synthesizer, adding some subtle 'dubby' production effects. Upon reading 'pulsating synthesizers' you might expect the synths playing a leading role but in fact it is not: the choir is definitely the main performer here! The electronics serve to support the choir and draw the connection between 'classical' and 'contemporary'.  But it dóes make a difference, especially in the first tracks on the album and in the closing track Ich Geh Dir Nach. 
The compositions are different from other 'contemporary classical' music because they are more rooted in the classical choral tradition than in the usual melancholic neo-romantic style. For most listeners this will feel like a 'real' classical music album (apart from the occasional electronic enhancements).
But that, of course, is just labelling.
Play Jóhann Jóhannsson's Orphée (which ends with the choral Orphic Hymn) first, and then add Helbig's album to the same playlist. The transition will be hardly noticeable… but will lead you into new and (perhaps) hitherto uncovered territories!
Sven Helbig – Kyrie
[total: 1,277 - today: 1]