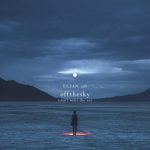 Releasing your 50th album (since 2003) requires an appropriate celebration: so many albums in just over 13 years while maintaining an artistic quality standard (perfectly demonstrated on this anniversary album) is a truly remarkable achievement!
For this special occasion, Jason 'OfftheSky' Corder releases his 50th anniversary album Silent Went the Sea together with a second disc, a DVD containing the video version of the 8 tracks of the album (+1 bonus video by Monolyth & Cobalt). And if that was not enough, the physical CD also includes an extra EP download code.
So much for the good news… now here's the sad part: the celebration party is nearly over now. Meaning the special edition is sold out..
But as usual, the digital version remains available.
Many of these tracks were originally written as soundtrack for the accompanying films on the DVD, but they work very well without those too.
The Silence of the Sea refers to that special moment " when all of the waves cease and there is a loud lull of silence before the waves start crashing again."
It's a most effective kind of (nearly) acoustic 'ensemble ambient', performed on violin, cello, water instruments, vibes, bowed crotales, vocals, with Jason Corder adding all other sounds.
---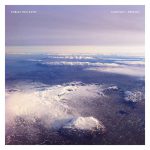 There are quite a few mentions of works by Tobias Hellkvist on this blog, but Kaskelot is not among them. I don't know why I missed this lovely original CD-R release (2011, on Tokyo Droning – a Home Normal sidelabel), but I did.
So I'm happy to hear that 1631 Recordings presents a lovely reissue – with added bonuses!
The original EP contained 4 tracks – Kasekelot 1- 4 – with a total length of no more than 16 minutes. It is strikingly different from other Hellkvist's releases: not only because of the instrumental setting (organ, lap steel, piano, loop pedal, cymbals, guitar, vibraphone) but also how it came about:
"Originally sprung out of an idea conceived of 4 notes repeatedly played on a vibraphone and a grand piano, Kaskelot was composed and recorded on-the-go one late night in February, 2011 in Sigur Rós studio in Reykjavik, Iceland."
Hellkvist slept on a camping bed in the recording room where he worked as an audio engineer on a different project, so he had the opportunity to use the instruments and gear available to play rather than getting sleep. With a fascinating – though relatively short – result!
For this reissue, the original tracks are remastered and slightly reworked, but still remain true to their original acoustical starting point. No heavy remixing or additional effects here: those are reserved for the six remixes that follow (50 minutes of extras in total). Almost unnoticeably subtle, the first remix (Seque) floats into into a more electronic setting, slowly building up to a noisy climax in the closing remix by Chris Herbert.

The remixers (Seque, Steve Pacheco, Pausal, Porya Hatami, Chihei Hatakeyama and Chris Herbert) all work with different details from the originals, but the different tracks match together perfectly into a beautifully diversified full album.
---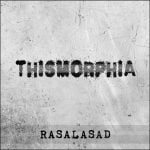 Rasalasad, a.k.a Fernando Cerquira from Portugal, 'mixes spoken wordcore, drone, broken word, illbient, experimental, library music'.
He is also the founder of the Thisco label and of the Antibothis anthologies, a series of books released together with a CD compilation. A busy man, obviously, with a lot of connections in the experimental music scene.
Thismorphia is a collection presenting different collaborations, with some artists contributing spoken word pieces for Rasalasad's background soundscapes (Jarboe, Wildshores, Von Magnet, John Zerzan), while others deliver the sound sources (irr.app. (ext.), Emil Beaulieu, Merzbow, Smell & Quim, Antonym).
The list of contributora indicate that this collection may not be meant for the faint of heart. Be ready for some dark noisy pieces, intricately balanced with more subtle ambient and spoken word tracks.
---