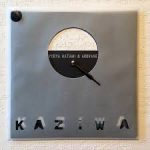 PORYA HATAMI & AROVANE – KAZIWA
Porya Hatami (Iran) teamed up with Uwe Zahn (Arovane) (Germany)  sharing their love for the piano in its various forms. But Kaziwa is not a solo piano album. It is the main instrument for these 15 mysteriously titled tracks, but considerable thought has gone in creating the background atmosphere.
"By stripping down the elements surrounding the main instrument, they have recorded an album that subtly resonates within a framework of restraint. Ghostly shimmers follow plaintive piano melodies, as reverberations haunt the spaces between notes."

Kaziwa is a Kurdish word for dawn… or dusk. Which may also be the best moments to play this album. Soft as a Harold Budd album, but at the same time with an atmosphere so mysterious that it "could serve as a soundtrack for a Twin Peaks episode that never happened."
As usual with the Time Released Sound releases, there are three editions: a download version, the standard CD release and a deluxe edition of 75.  
[Edit march 2018: this album will be re-released on n5MD records on may 4, 2018]
---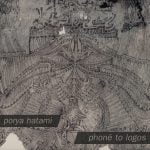 Only a few months after the Kaziwa release with Arovane, Audiobulb releases another Porya Hatami album worth checking out. Especially when you're new to Hatami's work, because this album is a hand-picked selection of tracks (including unreleased work) that illustrates his musical evolution over the five years since his debut release in 2012.
"Phone To Logos retraces my creative process to date. Each track illustrates distinct sound palettes and aesthetics at play during different periods of writing."
Most of the thirteen tracks are solo pieces, but there are some collaboration pieces too: such as Dawn (with Tomogotsu Nakamura), two tracks with Arovane (not included on Kaziwa), and a sneak peek into the future release with Artificial Memory Trace.
Phone To Logos is a download-only release.
---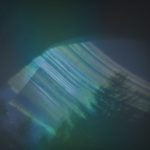 Originally released as a bonus download for those that bought a physical copy of Jason Corder's 50th release Silent Went the Sea, but made available as a download after that edition sold out – which obviously didn't take very long.
Silent Went the Sea was a combined CD + DVD release, matching each track with an accompanying video.
So is this Study: two of the Jean Piché videos (Hémisphères and Australes) are included in the download.
These videos originally contained a different soundtrack, created by Piché himself (that is why I don't embed these videos here). But in these download version they are dubbed with the OfftheSky tracks -remixed and remastered from the original 2011 recordings. The music fits the images like a glove – showing exactly what the title promises: a Study of Light Form in Transit.