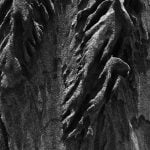 Singing Sand Dunes have puzzled travellers for ages. Marco Polo heard it in China (and suspected evil spirits), Charles Darwin wrote about a 'bellowing' hill in Chili. Only recently, scientists have explained this mysterious sound. "the sound of millions of little shocks".
It may sound innocent – the sound of those tiny grains of sand. But it can be roaring, booming, squeaking up to 105 decibel, lasting several minutes.
"The sound is similar to a loud low-pitch rumble. It emanates from crescent-shaped dunes, or barchans. The sound emission accompanies a slumping or avalanching movement of sand, usually triggered by wind passing over the dune or by someone walking near the crest."

A phenomenon like that is a challenge for Jacob Kirkegaard, who previously recorded the sound of the inner ear (Labyrinthitis), Icelandic geothermal motions (EldFjall) and the soul of forsaken Chernobyl rooms (4 Rooms) – to name only his best known album titles.
He travelled to Oman to record and film the singing sands in the desert, and the result is presented on a 30 minute audio/ visual presentation released by mAtter (Japan).
I can't really judge how the sound on this film relates to that in real life, because I haven't experienced it myself. But I assume it's every bit as overwhelming as this recording is.
The images of the shifting sands (presented in black and white) have a fractal effect: it's impossible to determine the scale because there are no references to the size. But it is very beautiful to watch these mountains of sand, shifting down and the slowly climbing up again.
mAtter has taken great care of the presentation of this project: the DVD (PAL, Region free) is packed with a 56 page book (with B/W photographs and travel annotations) and a A5 photo card, together in a beautiful sealed paper envelope.
There is no audio-only release planned for this project.
---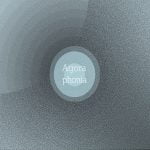 FRANCESCO GIANNICO & GIULIO ALDINUCCI – AGORAPHONIA
Agoraphobia is the extreme fear of open or public spaces. So Agoraphonia is a perfect name for an album dedicated to the sound of those spaces: the soundscapes of a town square, an open public space commonly found in the heart of a traditional town.
The basic recordings were collected after an open call to send audio recordings concerning the "square" theme.
The resulting soundscapes were reworked by Francesco Giannico and Giulio Aldinucci "in order to create an ideal symphony of all living squares all over the world".  They not only rearranged the location recordings, but they also added musical details so that the result is as much music as it is environmental sound. 
Four of these tracks contain the sound of specific squares in Morocco, Argentina, China and Italy. The additional 18 minute title track contains samples from 20 different contributors, morphing into a 'global meta-square'.

Agoraphonia is officially released on World Listening Day 2016 – which happens to be today: July 18.
"A day to celebrate the listening practices of the world and the ecology of its acoustic environments."
---
Most environmental recordings aim to reproduce the recorded sound as natural as possible.
For Bells Breath, Andreas Usenbenz' approach is different. On the occasion of its 125th anniversary, he recorded the 10 church bells of the Ulm Minister, stretched them and layered the different sounds until they are no longer recognisable as church bells but still have its intrinsic character. The result was presented as an audio installation inside the minster in the fall of 2015.
A vinyl LP release with three 'Studies' from this installation is scheduled to be released later this year. To help fund this release, an extended (59'30") "Sleep Version" of Study III is already available as CD-R version or digital download.
[Update 08-02-2017]
A beautiful clear vinyl version is released on february 17 on the Klanggold label. I've updated the purchase links to reflect this.
The Bells Breath release contains three different Studies (III, 20:38; IV, 13:00; II, 7:00), and it also includes the 59″  Sleep Version as an added bonus in the digital download (included with the purchase of the LP, and also available as digital-download only).