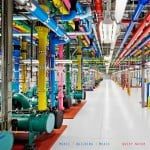 QUIET NOISE – MUSIC | BUILDING | MUSIC
Adam Wilkinson is a composer and multi-instrumentalist that spent his years as a sound engineer building 'a large and well-ordered collection of things that make noise'.
The cover of his new album shows a colourful machine room (Google, obviously) that is as playful as it is well-ordered and clean.
And so is his music: a massive collection of inventive samples ordered together in playful and bright-sounding compositions, backed by well-ordered yet somewhat unconventional rhythm patterns.
There are many things to discover in this lively demonstration that experimental music does not need to be heavyweight, dark and incomprehensible, but can be fun to listen to without becoming too simplistic.
"Music | Building | Music is the story of a hard day's work. Percussive sound effects reference the author's experience in labouring and carpentry. While rhythms champion teams of hard working hands, the melodic arrangements deliver the emotional experience of a long shift – triumph, failure, empowerment and exhaustion. Opening with the journey to work, Music | Building | Music pushes on before clocking off and going home to celebrate."

---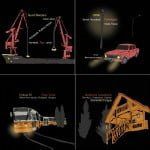 VARIOUS ARTISTS – TINY PORTRAITS
Tiny Portraits is an ongoing series of 3″-CD releases from artists from all over the world, 'presenting sonic portraits of lesser known places'.
It is a continuation from the 2013 compilation with the same name, which focused on Australia's lesser known places. But this new series of four EP's spans all of earth! It heads east, depicting sites in Russia, Hungary, the Ukraine and Latvia.
Foresteppe kicks off with a piece dedicated to the fog in his hometown Berdsk, Siberia. Gamardah Fungus  present a live outdoor jam on the porch of a small house in Slavske (West Ukraine), at the foot of the Carpathians.
Peter Terner is a Hungarian sound artist. His composition is derived from recordings of trams undertaking a tight turning circle in west Budapest.
Concluding this batch is Sound Meccano + Jura Laiva (with Mirvan Tarvainen) with a piece depicting the working harbour of Andrejosta in Riga, Latvia.
Though this may sound like these are strictly environmental recordings, (most of) these pieces are musical compositions, using local field recordings from the part of the world where they were created as their main material.
This is growing into a very interesting project from the Flaming Pines label,  including a dedicated website where you can see the series' progression and get more info about each individual 'Portrait'.
As mentioned, this is the second series of four EP's.
The fist series has presented releases from Siavash Amini, Zenjungle, Sound Awakener and Yuco.
"Collect them all!", as they use to say!
---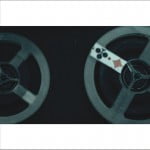 BIONULOR – STARY PISARZ
Stary Pisarz means The Old Writer – a direct reference to William S. Burroughs. This album is the studio version of a multimedia performance dedicated to Burroughs' 100th birth anniversary in 2014. 

Bionulor (Sebastian Banaszczyk from Poland) refers to his own working method as "100% sound recycling", which means that "every track is created solely on the basis of processing only one sample deriving of a specially selected source sound, without any additional sounds or instruments". A great way to reflect on Burroughs' experimental cut-up technique of writing.
The original performance contained music, videos created by Kolektyw : Międzymiastowa, and prose taken from different fragments of Burroughs work.
This CD version contains the (instrumental) studio versions of the music created for that night – referring completely to the details of the writer's biography (hence the reference to the Moroccan culture), or to his certain books.
BIONULOR – DREAMS OF H.I.S.
---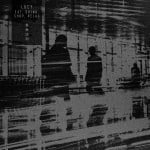 LUCY – EAT, DRINK, SHOP, RELAX
It's part of the modern-day cycle of consumerism: Eat Drink, Shop, Relax.
Only a 'Part', because it's incomplete – it seems to be missing the way to gain enough of an income enough to do all that… But nevermind: we're focussing on the relaxing side of life here:
"while the world continues to move at a breakneck pace driven by people's acquisition of 'things', Lucy's experiments exude a notion of peace and contentment. […] a time and place where freedom from the clutches of consumerism can, and will be the norm."
Lucy is Italian-born but now Berlin-based Luca Mortello, a DJ/producer well-respected for his 'deep yet dancefloor-driven' sound. The tracks on this relatively short album (somewhat under 30 minutes) are definitely nót aimed at the dancefloor.
It's another fine example of an artist that is familiar with the more adventurous dance-scene (performing Berghain, Sonar, ADE, Boiler Room etc.) that dares to venture out into way more experimental areas.
These four tracks (you guess their titles) were recorded live to tape in Lucy's berlin studio – 'a warm, comfortable bubble of hypnosis that feels at times like the machines have developed their own language."
LUCY – RELAX