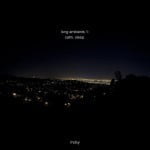 MOBY – LONG AMBIENTS 1: CALM, SLEEP
Even the busiest music producers need some time to chill out. Moby (Richard Melville Hall) originally made this collection for himself, but decided to share it.
For Free (!)
The title tells it all: it's a collection of eleven long ambient tracks (LA1 – LA11), totalling 4 hours of calm sleep music.
There has always been a connection from Moby to ambient music, most notably his 1993 Ambient album (which was not very ambient ambient), and Hotel: Ambient (originally released with Hotel in 2005, but recently rereleased separately). But they were never as 'pure' ambient in form as these tracks are.
This is not an official release, obviously: you won't find any info about it on his  official website. It is published on the Little Pine website, which is the site of Moby's vegan bistro in Silver Lake, California.
I cannot imagine what hardcore Moby fans may think about this release, but it's a great find for ambient music lovers. And for insomniacs!
MOBY – LA7
---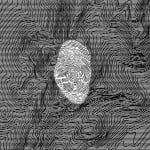 STROM NOIR & MICROMELANCOLIÉ – 49°05'19​,​3″N 22°34'04​,​0'E
Packed in an ecopack sleeve with a beautiful image that refers to a fingerprint as well as to a height map, this album point to the mysterious location that is also its title. The coördinates seem to point to some place near Topola, deep in the heart of Slovakia – 'places a bit distant to urban civilization' – … but in fact that may not be important at all: 'The answer (to Where is it?) is in the music itself'.
Strom Noir is Emil Mat'ko from Slovakia, and Micromélancolie is Robert Skrzynski from Poland. Their music slightly different characteristics that complement each other very well: Strom Noir's 'guitar/electronic passages' and Micromelancolié's 'sonic structures prepared from defects and scraps'.
The album contains two long compositions that are constantly changing – like floating over immense unknown (Slovakian) landscapes.
---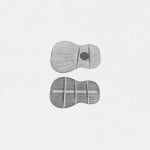 EMILIANO ROMANELLI – TABULATURA (VOLUME I)
Seven minimalistic drone pieces for acoustic guitar with electronic bow and electronics, recorded live at the 18th century Palazzo Castagna in Città Sant'Angelo, Italy.
"Tabulatura is a 2008 indeterminate composition for sixteen pre-recorded guitar parts and computer with custom software. It is conceived as a system to generate different electro-acoustic patterns."
Emiliano Romanelli was the co-founder of multimedia duo Tu'M , a project that was terminated in 2011. His works "are based on generative systems, and the perceptual relationships between sound and space". This can also be felt with these Tabulatura pieces: the calm and floating atmosphere easily fills the room they are played in.
Tabulatura is released on cassette and as a 24/48 lossless download.
EMILIANO ROMANELLI – PATTERN # 22
---