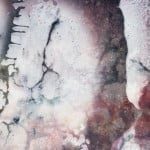 MULTICAST DYNAMICS – OUTER ENVELOPES
The fourth and final part in a series of releases that 'explores organic and aqueous worlds in a dreamlike and spiritual appearance'.
After Scape, Aquatic System and Scandinavia, Samuel van Dijk takes off into outer space.
'He sends a time capsule out into a fictional space, exploring the unknown and placing sonic beacons which create eerie soundscapes and detailed textures. Together with airy pads and dark shuffling rhythms, these elements form dynamic sequences which display the sonic and embody the thematic evolution of the Multicast Dynamics project.'
In more than one way the music resembles some of the best work of Geir 'Biosphere' Jenssen: the dubby rhythm combined with a blanket of electronic layers.. But if there's one thing that this series of album proves it is that it is not simply a copy, but the work of someone creating new originals with the use of noise generators, modular synths and 'experiments with voltage' .
Each of these albums stand up very well on its own, but of course the full evolutionary concept is best enjoyed when the four albums are played sequentially.
Outer Envelopes is concluded with a dub-techno re-shape of the title track by VC-118A – one of Samuel van Dijk's other aliases. It concludes the 4-cd series that moved 'from an evolutionary to a cosmological scale' – and might very well be a promising glimpse of the direction Samuel van Dijk's next venture might take.

MULTICAST DYNAMICS – SONAR
---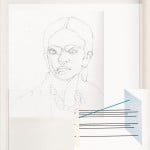 TOBIAS FREUND & VALENTINA BERTHELON – RECENT ARTS
Tobias Freund is a German experimental musician with a long history of experience in music (even dating back to 1980 when he worked as an engineer in the high-end studio of German producer Frank Farian). In his later works he explores the musical areas between Acid, Ambient and Techno, all of it with a focus on the live approach. He has worked together with Max Loderbauer, Ricardo Villalobos and Uwe 'Atom™' Schmidt (among many others).
Max Loderbauer also helped develop the Max/MSP application that was built for this Recent Arts project: 'a  "Loop Based Computer Controlled Engine" that repeats and processes sounds in a free and natural way – which feels like listening to the flowing water of a creek, or to the sound of the wind.'
For Recent Arts, Freund teams up with Chilean visual artist Valentina Berthelon (who is currently living in Berlin).
Primarily, Recent Arts is an audio-video liveshow manipulating sound and image in realtime, the video is as important as the audio.
This album version, of course, displays only the audio component of such a show. But it's impressive enough, even without the videos.
Nonetheless, checking more examples of Berthelon's video art, I'd say that this project also deserves to have a DVD-version including the videos for these tracks!
Tobias Freund & Valentina Berthelon – Emptiness Syndrome
Tobias Freund & Valentina Berthelon – Zero Theorem
---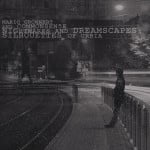 MARIO GRONNERT AND COMMONSEN5E – NIGHTMARES AND DREAMSCAPES: SILHOUETTES OF URBIA
Collaboration album of Mario Gronnert (Germany) and Mason 'CommonSen5e' Metcalf (Portland, USA).
Mario Gronnert had some musical experience in a progressive rock project named Aera before he decided he wanted to be a 'one man music project' and finally found his home in ambient music. Since his initial release in 2012, this is his fourth full album.
The Nightmares and Dreamscapes are rather dark and abstract 'urban' soundscapes with an occasional glimpse of light shining through near the end of the album.
"It is shaped, driven and originally inspired by the imagination of a journey by two individuals, beginning in a kind of post apocalyptic city. They are following the dark and foggy and ashy urban streets and railways to find a sign of light and hope for a new beginning at the end"

The opener, Breathing the Ash, is a 22 minute (nightly) walk through the unfamiliar city, the remaining six tracks are shorter pieces  (3 – 7 minutes)
---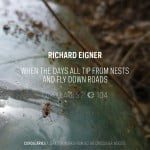 RICHARD EIGNER – WHEN THE DAYS ALL TIP FROM NESTS AND FLY DOWN ROADS
This is the second release in Crónica's ongoing Corrolaries series, a collection of works resulting from a collaborative residency curated by Simon Whetham in Mooste, Estonia (the first was  this one by Yiorgis Sakellariou).
Released as a Name-Your-Price download, they are a perfect way to discover the various ways that environmental recordings can be transformed into sound art soundscapes.
'When the Days…' is constructed from Field recordings made in Mooste and its surroundings, "which was especially appealing for the contrasts between nature and derelict and abandoned structures from the soviet area. My aim was to convey the atmosphere I was absorbed in, wandering around in solitude in the landscape almost devoid of human presence."
And that atmosphere is perfectly captured!
Environmental sound recordings can be used to re-create a certain atmosphere, if you record them well and leave them as close to the source as they can be.
But that is not the purpose of these projects, of this album. When listening to them, you hear music, not just sound.
That's precisely what Edgar Varèse meant when he defined 'music' as 'organized sound'.