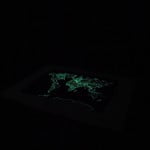 CHIHEI HATAKEYAMA & KEN IKEDA – MOSS
Chihei Hatakeyama, the prolific sound artist from Japan, is joined by Ken Ikeda for this release of nine beautiful minimalist pieces recorded over a period of two and a half year. Ken Ikeda, born in Tokyo but currently residing in London, has released on Touch and Spekk, and worked with a lot of different artists – including painters and film makers. Chihei Hatakeyama probably needs no further introduction here: he had released over thirty albums under his own name, recently on his own label White Paddy Mountain.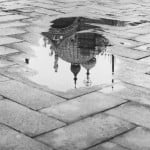 THE VOLUME SETTINGS FOLDER – FOLDER #05 / LAGUNA
Quite a lot has happened since M. 'Volume Settings Folder' Beckmann released his debut album Ivanhoe way back in 2012: his Bandcamp page currently boasts over 30 digital and 23 physical releases!
The Folders series is a series of self-released albums 'aiming to experiment a little more with my compositions and at the same time to bring back the 'long-form' in my music. To my satisfaction, all my albums resulted in an uneven display of styles, something I've been proud of, for most time."
For Folder #05, TVSF chose to avoid synthesizers and any electronic instruments, and use banjo, ukelele, chamber organ, piano, guitars – yet all heavily effected and processed. The result is a pleasant warm atmosphere that feels like 'home' – wherever that may be (for TVSF, it is North-East Italy).
Like most of his digital releases, Folder#05 is available as a pay-what-you-like download. (note: TVSF offers his full digital discography for a ridiculously low price)
Later this year (march 25), a new release will be added: this time a vinyl LP (+ other formats such as a wooden box vinyl + cd combi) release on the German Oscarson label.
Laguna is created with  somewhat different instrumentation (a bit more electronics and environmental recordings) but it has the same adventurous unpredictability that has become TVSF's trademark: don't just do what others do – just do what's necessary.
Laguna  is dedicated to Beckmann's (not his real name, by the way) mother, and inspired by his homeland, Italy.
There's a lot of water involved, which should be no surprise given the album's name.
The Volume Settings Folder – Millenial Underwater Forest (from Laguna)
---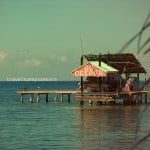 TRAVELSUNNYSAMSARA – GO DEEPER
The cover (as well as the artist alias Travelsunnysamsara) shows a picture of a perfect holiday destination. This will probably nót sound like any other arctic ambient album.
And it doesn't…
In fact it isn't even real 'ambient'. Chris Draaijer (from Eindhoven, Holland) uses guitar and other string instruments for these "cinematic, melancholic instrumentals with  a dark and dreamy undertone."
With the added accents from vibraphonete, toy-clarinet, sine generator and analog synths, the result is a nice warm atmospheric set that helps imagining  you are enjoying a warm summer day on the jetty in sunny Samsara.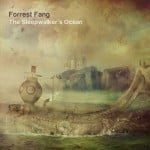 FORREST FANG – THE SLEEPWALKER'S OCEAN
A 2-CD (over 2 hours) 'exploration of the fantastical and elusive realm of the subconscious'. Most of the first CD is taken up by the six-part ambient suite that gave the album its name. It is completed with another four tracks.
The entire second CD is filled with the 54 minute track An Alternate Ocean (The Salton Sea) – an 'alternative view of the imaginary ocean suggested in the title track'.
Compared to most contemporary ambient music, which is often 'arctic' and 'desolate', the music on this album has the atmosphere of a fantasy world, as pictured on the cover.
"While Fang embraces the American minimalists and the ambient soundscapes of his contemporaries, he also draws on the gentle percussive textures of Javanese gamelan and on pentatonic scales used in traditional Asian music. Besides using violin, electric mandolin, electric guitar, keyboards and various textural treatments to create complex layers of sound, Fang also plays lesser-known instruments such as marxolin, saron (Javanese gamelan), and lavta (Turkish lute)."
All of the music is performed by Chinese American composer Forrest Fang, with a guest performance by Robert Rich playing flute on one track. Rich also mastered the release.