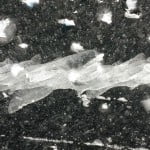 FRANCE JOBIN – SINGULUM
France Jobin (Montreal, Canada) is a sound artist whose work reveals 'a minimalist approach to complex sound environments where analog and digital intersect.'
Her latest release on Line is a collection of four  'sound sculptures' recorded using the Serge and the Buchla 200 modular synthesizers as well as the Nord Modular. Subtle, non-intrusive pieces you're hardly aware of, but with a lot of details to be discovered if you listen carefully.
"I put field recordings through a series of editing and manipulation processes which result in very different sounds from their origins. These manipulations affect time, timbre, harmonics and the essence of each sound, whereas composition influences how they relate to each other." 
"Singulum represents an unattainable goal, the process of decay while conserving a continuation of information."
FRANCE JOBIN – M
---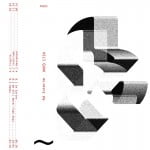 NILS QUAK – AD INTERIM / IN GIRUM IMUS….
Two cassette releases from Nils Quak that (luckily) are also available as a download:
Ad Interim has a 'introspective, relaxed kind of vibe – not unlike staring in your TV's static for approximately six hours' (this description comes from Nils Quak himself).
In Girum Imus Nocte et Consumimur Igni ('We are lost in the night and consumed by fire') is a collection of modular synth pieces that – again in his own words – is "like this wonderful acid trip that turns into your personal nightmare: abrasive, disjointed, noisy. The perfect soundtrack for your romantic dinner."
Personally, I have some slight doubts about that last statement…

---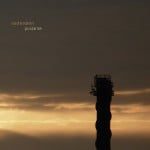 VLAD NEDELIN – POSTANTE
Jazz drummer and composer Vlad Nedelin was born in the Soviet Union, has lived in Israel, and is currently residing in Stockholm, Sweden.
This is his first fully electronic album, and an impressive debut it is, too!
Nine tracks, seamlessly sequenced, drawing influences from ambient, industrial and musique concrête. Soundscapes with an adventurous 'sci-fi' touch, reminiscent of that of Biosphere, but with a somewhat sharper edge.
VLAD NEDELIN – AN ISLE
---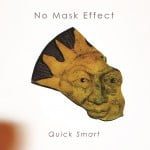 NO MASK EFFECT – QUICK SMART
After many years of running a label (Psychonavigation) and listening to hundreds of demos, Keith Downey decided it was time to release some of his own music.
His main inspiration for this album was (again) Geir 'Biosphere' Jensen's music – most clearly so in Grass that could've been taken directly from Jensen's Cho Oyu album.
There's an important role for everyday environmental sounds: 'the sounds that we all encounter on a daily basis, be it the sound of traffic, people's conversations at a local market, the sound of someone cutting the grass perhaps or even just the lovely sounds of birds singing in the trees, basically anything or everything you might experience from taking a walk around any town or city."
Strip away the radio signal sounds from the opening track, Downtown, leaving just the synth pads and bird sounds, and you may experience the same feeling of summer heat as on Wendy/Walter Carlos'  landmark album Sonic Seasonings (from 1972).
Enough references to classic ambient material, but it's also a very personal vision of what makes (environmental-)ambient so interesting to listen to. Or not listen to.