THE LITTLE GLASS
And suddenly, without any warning, there's good news from the ever-enigmatic Akira Rabelais:
His entire back-catalogue is now available on Bandcamp – which is good news because most of these title were unavailable for a long time now.
And at the same time a new album is released: The Little Glass (available in digital as well as in physical format).
More news on the re-issues below, but let's start with the new release first.
The Little Glass is a 5-part (2CD) album presenting collaborative pieces created with Harold Budd.  It's not the first time they worked together: Rabelais' 70 minutes remix of As Long As I Can Hold My Breath was included on Budd's Avalon Sutra cd (2004).
The first 4 pieces on CD1 all focus on the sound of the grand piano and Budd's distinctive playing – with lots (lots!) of room for the spaces in between. Opening with a very short (19 seconds) fragment, the second part immediately alters your perception of time stretching up to 42 minutes. The remaining two pieces are relatively short with their 7 and 10 minutes.
The entire second CD is filled with the Part V (70 minutes), which presents a mirrorred sound palette: no longer the piano is up front, it is hidden somewhere in the background, triggering light, bell-like synth sounds that create a peaceful atmosphere of generative eternity.
(Christmas seems to be the perfect time for this release, but this doesn't mean you can't play it at other times of the year)
As usual, there's not much information about the creative process involved, apart that both Rabelais and Budd play the piano.
The sections sound as if they were (partly) improvised, with parts and fragments later edited edited and re-shuffled, sometimes using random algorithms, and adding extra breathing space between the notes. In Part II  especially, you can hear (if you listen closely) the software choosing fragments and thus generating cuts in the prolonged background reverb.
This is intentional, of course – I assume that Rabelais' self-developed Argeïphontes Lyre software is the third artists here (if you like a challenge: just try to find some background information on this A.L. software on his website).
"I just let it take me along to wherever it needs to go. It's really is like having a garden growing…letting the weeds take over and do what they want.. "
(Akira Rabelais about his Argeïphontes Lyre software)
The result is a strange, ethereal kind of music that is neither 100% human nor strictly artificial. It is both, at the same time.
You won't be able to hum along, because there's no recognisable melody – and yet it feels remotely familiar.
The kind of music you can 'set and forget' and play in the background for a very long time.
---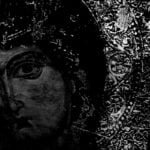 SPELLEWAUERYNSHERDE (Re-release + radio show)
Ever since I first heard this release from 2004 (on David Sylvian's Samadhisound Label) it has been on my all-time favourite list. (It was, in fact, one of the earliest favourites mentioned on this blog).
Akira Rabelais' re-workings of 1960/70 Ampex tapes with found voices from Icelandic a capella lament songs may be somewhat too haunting for some: it's 'as if a voice coming from the middles ages haunts you in your deepest sleep'.
This album became somewhat of a cult classic but remained unknown to many.
That is why I am very pleased that Rabelais decided to make it available as a digital download: if you missed it before, here's your chance to catch up!
In 2005, Trans>Parent Radiation (a sublabel of Bremsstrahlung) released a compilation called Spellewauerynsherde, Interpretations Various & Sundry  with Spelle-remixes by artists like Christian Fennesz, Kit Clayton, Taylor Deupree, Stephan Mathieu and more.
Some of these tracks were included in the Spelle radiobroadcast I compiled for a dutch radio program (Supplement, NPS/VPRO, 4FM) in 2006.
This radioshow also included some (still unreleased!!) fragments submitted by Akira Rabelais especially for this occasion.
This is the tracklist:
1559 W. Cunningham Cosmogr. Glasse 125, Within which drawn another Circle, a finger breadth distant (*)
1390 Glower Conf. II 20, I can nought thanne unethes spelle that I wende altherbest have rad (*)
1440 Promp. Parv. 518/20, Wawyn, or waueryn, yn a myry totyr, oscillo (*)
1559 W. Cunningham Cosmogr. Glasse 125, Within which drawn another Circle, a finger breadth distant (*)
I8U – 1570-1 in Willis & Clark Cambridge (1886) III. 594, For vppyng ye Swannes and wynteryng them..xxiijs. (**)
Steve Roden – 1480 Robt. Devyll 32, Hys mother gave hym to the feende of hell In the houre of hys fyrst contemplacyon (**)
Kit Clayton – 1250 Owl & Night. 314, Ich singe..Mid fulle dreme and lude stefne (**)
1483 Caxton Golden Leg. 208b/2, He put not away the wodeness of his fleshwith a shrede or shelle (*)
1671 Milton Samson 1122, Add thy spear, a weaveers beam, and seven-times-folded-shield (*)
1559 W. Cunningham Cosmogr. Glasse 125, Within which drawn another Circle, a finger breadth distant (*)
(throughout:) Intermission Tracks 12,50,27,76,70, 21,14,34,6 (***)
(*) – from Spellewauerynsherde, Samadhisound, 2004
(**) – from Spellewauerynsherde, Interpretations Various & Sundry, Trans>Parent Radiation, 2005
(***) – unreleased fragments, from Akira Rabelais private collection

On occasion of the renewed availability of Spellewauerynsherde (and with special permission by Akira), you can play this radio show below.
(The program has a short introduction in dutch, presented by Hans Mantel, and also contains short interview fragments. Note: the links mentioned in the program are no longer active).
Akira Rabelais a.o. – Spellewauerynsherde 4FM Radio Special, 2006
[total: 2,377 - today: 1]