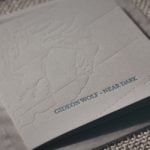 GIDEON WOLF – NEAR DARK
Fluid Audio  have built themselves some kind of cult empire. Not very surprising, considering the quality of their releases, and especially the way they are packaged. But the downside, of course, is that these releases are the kind that virtually sell-out on pre-ordering alone.
Here's another one of those: if you're interested in a letter-pressed CD including 20 prints, vintage photo slides, 1920's explorer notes, dried leaves, scent, hand-typed messages – all hand numbered and sealed in oversized glassine bags….. you probably missed it because reading this sentence took you too long!
(To be exact: only 5 remaining at time of writing).
As long as there are copies available, there is no digital download counterpart. But there will be when they sell out – which won't be long.
So we may better focus on the music, instead of its package.
To summarize: Near Dark is a baffling album.
The opener track, adressed to Mr. Controller, grabs the listener by the throats and from there it doesn't let go. It is dark, but not completely dark: it presents a wide range of styles, vocal as well as instrumental.
There's a haunting, heavy atmosphere, but it's impossible to pin it down to a single genre.
I can't really tell why, but this music definitely feels English, rooted in its mystifying forests and landscapes. I don't think this could have been made anywhere else in the world.
Gideon Wolf takes the best of many influences and combines them to take it all a few steps further. The exuberant package is a fine thing for sure, but even when it was released in a simple white paper sleeve, this album would prove there may be an exciting future for 'atmospheric experimentalism'.
---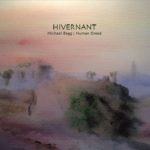 MICHAEL BEGG/HUMAN GREED – HIVERNANT
A pre-summer release (June) that I missed, and which is definitely worth making up for!
Michael Begg is known for his contributions to Clodagh Simmonds' Fovea Hex, his collaborations with Nurse With Wound's Colin Potter, and for his own releases as Human Greed (which can be solo or a collaboration with Deryk Thomas).
Hivernant  is a watercolour sketchbook inspired by the place where he lives: East Lothian in Scotland (bordering the city of Edinburgh). .
'I sketched notes about silence, about space and place, music and recording. I took one step to the side and listened to the time rush by. I applied the same light touch to the studio. I sketched. It was enough. I somehow, briefly, removed ambition and purpose and found, in the winter, a moment of repose.'
Listening to the varied sound palette of these tracks – experimental ambient as well as contemporary classical, with references to Pärt and Schnittke – I would not use 'sketches'  for a description myself.  The word 'sketches' feels like an understatement of this work, like something not really finished..while this feels like a full-grown album te me… But who am I to judge the artist's own description?
---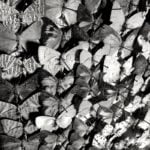 THOMAS RAGSDALE – BAIT
For this album, Thomas Ragsdale (one half of Worriedaboutsatan), re-worked his own score for Dominic Brunt's thriller – 'a modern day Faustian tale that examines the boundaries of humanity's evil'.  The original score focuses more on background drones and atmospheres, but this version is re-created to be a stand-alone album, and not 'just' a soundtrack album.
On the other hand, 'Bait' was sequenced to take the listener down a similar path to the movie: at once beautiful as it is beguiling, intense as it is disturbing – shimmering drones give way to gnarled bass, refracting synth lines clatter over arctic atmospheres.'
And this it does very well; it's an album with a very dark atmosphere, but also with a lot of beauty underneath. There's no need to see the film to enjoy this music, though this version of the soundtrack definitely raises the interest to check it out too.
Bait is also released as a cassette which comes free with a CD-version and a package 'that comes straight from the film's brutal story.'
---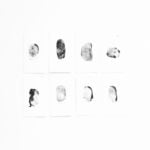 VARIOUS ARTISTS – VARIABLES
Here's another fine example of what collaboration projects can bring us. This time, the concept is slightly different: bring together a bunch of artists (all Bigo & Twigetti related in this case),  let them jam and improvise with the objective to create a full release within seven days. From scratch, which means writing, arranging, performing, editing ánd mastering.
"I thought, what about creating an album in this way, but rather than just having two artists going back and forth, I thought it might be more interesting if the creators only got one chance each to add their input to the creative process. I also thought it would be more interesting to make this project very time limited, so that the creation had to be, to some extent, reactive/responsive/improvised, forcing composers to make quicker decisions and hopefully adding an energy and excitement to the music".
(Jim Perkins at Completemusicupdate) 
Obviously, this was an inspiring task. Antonymes, Beatrice Chaume, Chris Perren (Nonsemble), Leah Kardos, Lucy Claire, Richard Talbot (Marconi Union) and Tiny Leaves did a great job in creating an album that sounds lively and sparkling, well balanced and also beautifully produced.
One would never guessed a thing like this could be accomplished in only seven days!
---