In recent years it is not uncommon that artists work together without meeting each other in real life. On-Line collaboration is a common working method: sending work-in-progress to each other until it's ready. It's one of the many wonders the Internet brought us.
But as far as I know, two labels collaborating together in this way – matching their artists to work in duos on a collaboration track – has not been done before.
It's a bold project by Eilean Records and Dauw to match 15 of their artists and let them make 14 collaborative tracks that are released as "Dialog Tapes" on two different media: a CD from Eilean and a Cassette tape from Dauw.
It's a matching pair – the one should not be listened without the other. Just consider it a double album released on two different media – by two different labels…
No need to think about that too long, by the way: the physical editions will probably be sold outby now (though there may be some copies of the CD left at Experimedia or Stashed Goods). But luckily both releases are still available as a perfect pair of digital downloads.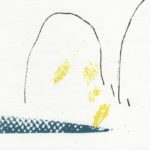 One might expect a somewhat hectic clash of extremes when so many artists are paired, but it's not. On the contrary: the fourteen tracks are pleasantly varied, often lo-fi, seemingly improvised, introvert, but néver dull, soundscapes.
The labels  – ánd their artists, at least those participating here – clearly share their view of what contemporary soundscapes should sound like!
(A honorouble mention is in place here for the mastering of Ian Hawgood)
14 tracks by 15 artists working in duo's must mean there is one duo involved (Sokkyo is Heine Christensen and Ciro Berengues) which means that two tracks are created by a trio, not a duo. Not that that really matters, it's just for those that want their math to be correct…
So, each artist that is present in two different combinations, each interacting with what the other party does best.
And beyond that, it is great to see labels not competing but working together.
The artist names to wet your appetite (find out the combinations yourself):
Stijn Hüwels, Danny Clay, Ruhe, TwinCities, Miguel Isaza, Monolyth & Cobalt, Wil Bolton, Leigh Toro, Aaron Martin, The Humble Bee, Sokkyõ, Masayaka Ozaki, David Andree, Dudal.
As demonstrated by this release, the result can indeed be much greater than the sum of its parts.