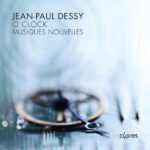 YouTube can be an inspiring tool to find things unexpected… I tell you no news.
Recently I stumbled on a full concert performance (80 minutes) called Sonic Cathedral #3 / Version Integrale, performed by Musiques Nouvelles plus guests.
From the opening kettledrum rumble, the subsequent  gregorian chant until the very last note I was glued to the screen; it didn't let go until it was over.
What a striking programme of works – merging gregorian chant, classical music (Rachmaninoff, Bach), modern classical music (Tavener, Gorecki, Dessy), electronic music (Baldursson/Kaninus) with mongolian throat singing (Tulegur Gangzi – notice the use of drones here!) – and finally culminating in a magical all-ensemble performance with Melanie de Biasio you will not likely forget.
The setlist is curated with an unbelievable natural flow which easily crosses any possible border between classical, modern, ethnic and popular music – sometimes different pieces were even performed simultaneously! And: all perfectly recorded in HD-video as well as sound!
Please take 80 minutes of your time, put it on (HD) fullscreen, crank up the volume, and check out the full video below. Check your health if it doesn't touch you at least more than once!
Sonic Cathedral #3 – Version Intégrale
Excuse me for this lengthy introduction, but I'll get to the point now:
One of the 'modern' compositions that struck me in this concert performance was Vertiges, composed by Jean-Paul Dessy – also the director of the Musiques Nouvelles orchestra. A piece in Arvo Pärt style, yet different.
On further checking I found a recent Jean-Paul Dessy album was released late 2014, called "O'Clock", featuring three of his compositions performed by Musiques Nouvelles.
And this proved to be yet another big surprise.
Jean-Paul Dessy (1963) is a Belgian composer with an impressive track record. One that is clearly not afraid to cross borders into unknown territories: such as in his experiments with Scanner and DJ Olive with their "comprovisations: work that is open to the digital world as well as to acoustic composition".
He has a distinct personal style of composing, which is quite different from other contemporary modern classical composers that often choose the romantic 'cinematographic' style. His work is dramatic, extremely dynamic – a roller coaster ride of conflicting emotions.
"O'Clock" presents three of Dessy's compositions: the 33 minute title track (commissioned by Heiner Goebbels), and two shorter pieces: The Return of the Repressed and Subsonic.
The ensemble also features electric guitar chiming in, and a laptop providing bass drones and dawn chorus recordings.
Emotions hurl from frightening glissando's to total immersive calm within  a few minutes. The instruments are sometimes used in unusual ways, like the breathing into the wind instruments to create the faint sound of ghostly voices.
This is neither classical music as-we-know-it, nor is it rock music disguised as a symphony.
Because of its rather extreme dynamics, the music is intense and requires dedicated listening. It's either all go, or all delay:
"The outer world lives in the thrall of clock time, a relentless tick-tock, a voracious Chronos who is forever gulping down our fleeting, never-to-return moments. Yet our inner world also knows a time without time, a permanent present. Between these times, our lives are all go or all delay."
But I had the exciting feeling of hearing something completely new…
This is not simply following the current 'hip and happening' post-classical style, but completely unique and personal.
For those that want to check the title track in full, there's also a great performance video on Youtube: shot in beautiful black & white and with great sound. It's a great extra to see the musicians perform this piece live!
If you want to check the full album, it's also on Spotify:

But of course, it's the very best to directly order it from Cypres Records.
Jean-Paul Dessy – O'Clock