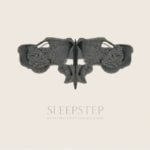 The Raster-Noton label ("Archiv für Ton und Nichtton") , founded in 1996 by Frank Bretschneider, Olaf Bender and Carsten Nicolai, is often known for its clean, sometimes almost academic, approach to electronic experimental sound art.
But that is only one part of the truth. The label is primarily "meant to be a platform — a network covering the overlapping border areas of pop, art and science. It realizes music projects, publications and installation works. A common idea behind all releases is an experimental approach — an amalgamation of sound, art and design, which is not only apparent in the music, but also visible from the artwork and cover design."
With her background as a techno producer, Fullpanda label owner and DJ, the musical focus of Russian born 'world citizen' Dasha Rush (real name: Dasha Ptitsyna Van Celst) lies more on the overlapping areas of pop and art, and a bit less on the science bit.
At first listen, her new album Sleepstep (subtitled "Sonar Poems for my Sleepless Friends") does not sound like a 'typical' Raster-Noton release… maybe because her sonar poems are "feminine, subtle and personal reports" – nothing like the usual concepts of electronic music created by nerdy, predominantly male tech-wizards.
But as the album progresses, the musical soundscapes get more abstract and gradually prove Dasha is perfectly at home on the Raster-Noton label.
This is of course not 'techno-as-usual', and I assume it is far removed from her DJ-sets too (although the early 2014
Boiler Room set
already showed a lot of what was to come – and was definitely not primarily aimed to a dance floor audience).
This is the work of Dasha Rush's alter ego: 'alienated micro-compositions and sound collages, interwoven with text passages, aimed at creating a dream-like atmosphere' coming directly from 'her strange and twisted world where the machineries are the protagonists of a neo-romanticism, weaved with human dreams'.
It may, perhaps, be a relatively small step for Dasha Rush, but at the same time it feels like a giant step for Raster-Noton.
DASHA RUSH – 100 HEARTS