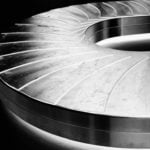 The ink of the cover of his previous release "Sacred Grounds" had barely dried when Stephan Mathieu announced his new release called "Nachtstücke".
(metaphorically speaking of course: these are both download-only releases).
The first thing to notice is that the full release of these "Night Pieces" is 260 minutes in length – that's about a half night's sleep!
Part I and Part IV (65 and 135 minutes respectively) both exceed Bandcamp's maximum filesize, so ordering will get you a download code for the 'missing' tracks.
Since Mathieu releases his work in 24/96 format, you'll have to anticipate a 2.7 Gb download or alternately go for the 600 Mb 320 kbit MP3 version (which will do nicely for most listeners by the way). The package also includes a PDF-booklet with beautiful pictures, designed by Caro Mikalef.
Parts I, II and IV were commissioned recordings of an entropic process setup in the historic baths of Saint Georges, Rennes (France).
(I cannot imagine exactly what entropic process means in relation to the music, but it sure sounds great!)
Before starting Part IV, which lasts for 2 hours and 15 minutes, Part III is a (subtly) different intermission piece featuring cassette loops by Federico Durand.
For most – if not all – listeners, four hours and twenty minutes of extended droning is simply too much for concentrated listening. So that obviously is not what this music is intended for.
From the album title and the sheer length of the album you might think that this is meant as some kind of sleep music – not unlike Robert Rich's 'Somnium.Perpetual' release.
But this is not entirely true: Rich's works cover a full night's sleep (over 8 hours) and follows the rhythm of sleep cycles, which means it gets quieter and quieter until it slowly returns to daylight.
When compared to Rich's 'sleep music', "Nachtstücke" seems a bit more 'busy', musically… there's some more going on in the backgound, so it may be somewhat harder to 'sleep to'.
The explanation is in the definition: in visual arts, a "Nachtstuck" is 'a scenery in artificial light, or moonlight'.
This is not intended as music to sleep to – in fact it's more like music for insomniacs: music to play softly in the background while contemplating a night scenery….
In the end, everyone will of course find it's own personal use: I thoroughly enjoyed playing this music in the background during the day, too.