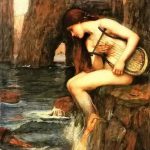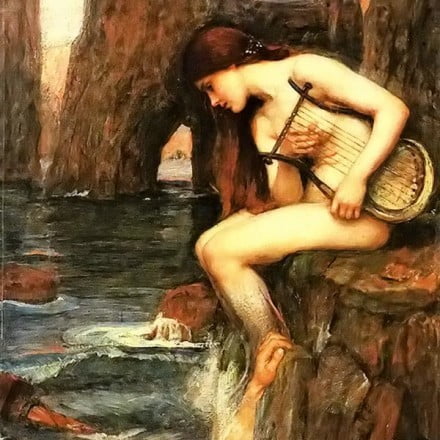 There is one special moment in this mix that defined its name and its theme: it is the moment around 23'30", when Asne Valland Nordli's acapella voice finds its exact spot in the preceding tune by Field Recording. Two records that have nothing to do with each other and yet melt as if they were written at one session.
To me, these are truly magical moments.
At that point, I also realised that this mix was built around mysterious vocals. Vocals that may guide you, or lure you, into distances unknown. Often, but not exclusively, female, and some of them not even human – like the beautiful flute-playing by Jean-Christophe Bonnafous, or the mysterious singing sound of the comet 67P/Churyumov-Gerasimenko that was recently discovered during the Rosetta space missions.
With just a little fantasy you can imagine the Philae Space Lander being attracted by the comet's song – ultimately leading it to an untimely death.
This mix was broadcast on Bob Rusche's "X-Ray" (X-Mas edition) on december 21, 2014 (Concertzender) – Thanks Bob & Concertzender!
Start – Length – Artist – Title
(Album Title, Release Year, Label #)
00:00 2:39 Mendel Kaelen – Suñayaca Tãla
(Sequence 8, 2014, Futuresequence SEQ008)
01:51 01:41 Hildur Gudnadottir – Poka
(Saman, 2014, Touch TO:96)
03:16 00:54 Dan Romer & Benh Zeitlin – End of the World Theme
(Beasts of the Southern Wild OST, 2012, Thirty3 and a 3rd Records)
03:28 04:06 Giulio Aldinucci – Fieno
(Aer, 2014, Dronarivm DR-25)
05:56 03:46 Iva Bittová – Fragment VI
(Iva Bittová, 2013, ECM Records ECM 2275)
07:13 02:55 Ambient Music Therapy – Sleep 3
(Ultimate Sleep System, 2005, Self-Released)
08:07 02:57 Above, Convenience Store! – Boneyard Stray Dog
(Building in Search of the Sun, 2013, Sparkwood Records SR01)
10:15 03:54 Penjaga Insaf – Pulang
(Sama Sadja, 2010, Power & Steel PAS27)
11:52 01:47 Andrew Skeoch & Sarah Koschak – Distant Bellbirds
(Favourite Australian Birdsong, 2001, Listening Earth LECD 10)
13:25 01:28 Andrew Skeoch & Sarah Koschak – Pied Butcherbirds
(A Morning in the Australian Bush, 1996, Listening Earth LECD 9601)
14:11 01:06 Ambrose Field – Technoform 7
(Quantaform Series, 2013, Sargasso SCD28071)
14:45 00:40 Andrew Liles – Tinder Box
(Black Beauty, 2007, Beta-Lactam Ring Records MT127)
14:54 05:02 Enrico Coniglio – Existenz Minimum
(Areavirus Topofonie Vol. 1, 2007, Psychonavigation Records PSY 020)
19:32 01:30 Cliff Martinez – Wrong Floor
(Drive OST, 2011, Sony/Lakeshore Records 88691975162)
20:36 03:21 Field Rotation – The Repetition of History
(Fatalist The Repetition of History, 2013, Denovali DEN161)
23:30 01:25 Asne Valland Nordli – Veverskens Tid
(Over Tones, 2014, ECM Records ECM 2315)
24:30 04:01 Darren Harper – Will My Memories of You Hold True
(Suspended Memory, 2011, Self-released)
26:48 04:06 David Toop – Disposal Chute Inoperative
(Mondo Black Chamber, 2014, Sub Rosa SR385)
29:39 01:57 Jack Dangers – Blast Off
(Bathyscape Trieste, 2013, Primary Numbers PRIMA007)
31:03 02:32 Andrew Liles – Aviophilia
(In My Father's House There Are Many Mansions, 2006, Fourth Dimension Records FDCD68)
32:50 02:16 Rodolpho Alexis – Parabolic Amphibian Mix (Various Tree Frogs)
(The Wire Tapper 34, 2014, Wire Magazine Issue 362)
33:37 02:00 Lustmord – Babel
(The Word as Power, 2013, Blackest Ever Black BLACKESTCD004)
35:17 03:18 Desert of Hiatus – Trepidation's Skin
(Inconsolable Grief, 2014, self-released)
37:51 02:56 Alogon – Snow
(Wound, 2014, Under U.R. 08)
38:49 02:29 Jean-Christophe Bonnafous – Alterina
(Graines de Berceuses, 2012, Prokosnovénie, Prik144)
39:28 02:23 A Day for Strange Birds – The Night Creeps
(The Sound Between The Noise, 2014, self-released)
40:40 02:16 Stefkovic van Interesse – Nebelmarsch
(In the Fields, 2013, Self-Released)
42:35 04:24 Pauline Oliveros – Watertank Software
(Vor Der Flut – Hommage an einen Wasserspeicher, 1985, Eigelstein Musikproduktion, ES2025/26 CD)
46:37 00:55 Paul Schütze – Sacred Agents
(New Maps of Hell, 1996, Big Cat ABB 104 CD )
47:02 03:31 Deaf Center – The Day I Would Never Have
(Owl Splinters, 2011, Type TYPE080 )
50:02 03:15 Mariolina Zitta – Sonar
(Concert for Bats, Voices and Natural Sounds, 2007, Earth Ear ee6142)
51:46 02:33 Max Eastley – Hydrophone String Installation
(Installation Recordings 1973 – 2008, 2010, Paradigm Discs PD26)
53:08 05:27 Ian William Craig – Either Or
(A Turn of Breath, 2014, Recital 8)
57:12 02:27 Mica Levi – Alien Loop
(Under the Skin OST, 2014, Milan M2-36678)
58:24 00:41 ESA Operations – A Singing Comet
(ESA Operations Rosetta Mission, 2014, Soundcloud)
59:00 00:47 Jon Hopkins – Distant Fire
(How I Live Now OST, 2013, Just Music TAO056)

Download "Siren Song" Now (59:40 min; 136Mb)
[Alternative download from Archive.org]
[DTS – Surround Version also available]
[total: 1,415 - today: 1]