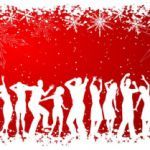 On Tuesday, October 21, it is exactly NINE years since the very first post on this blog.
And also five years since its name was changed to Ambientblog.net.
It is also the day this weblog (and all of its content) will be migrated to a new software platform.
To celebrate this, I have 30 FREE ALBUM DOWNLOAD CODES to give away!
From its very first days and its various incarnations, this weblog has run on the Pivotx software. Pivotx has served well, but gradually also became a bit outdated and slowly stopped being actively developed. Time to choose a new platform…
In the last weeks we have been working on the migration of the site content – which was quite a lot of work because there was no easy tool to migrate the database (content, comments, etc.) automatically….
(Thanks a million times to Edu Hackenitz, without whom it probably wouldn't have worked out at all!)
The new version will be 'live' on next tuesday, October 21. That'll be the last day ambientblog looks like this: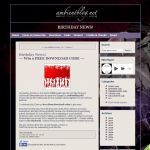 Seemingly random fact:
In the same month I started ambientblog, I bought a Squeezebox digital music player and started to stream all (and I mean all!) my music digitally.
As a result, Last.Fm has logged every single track I have ever played since then (apart perhaps from some I played in my car audio system).
What has thát got to do with the site-relaunch?
Well: on the chart presenting my all time favourite artists, three dutch ambient music artists are prominently featured: Michel Banabila, Machinefabriek and Matthew Florianz.
I am very proud that these three artists have donated download codes for some of their albums (for free) for this special occasion!!
Subscribe to the new email notification list to win one of these album downloads!
The winners of a download code will be (randomly) chosen from the new email subscriptions to the blog in the 48 hours following the launch of the new site.
You can enter your mail address to get notifications about new posts, and if you do so in the first 48 hours you will automatically participate.
Of course you can always unsubscribe at any time later – but of course I hope you won't!
It's your chance to win one of these albums (listed alphabetically):
Machinefabriek – Drum Solos
Machinefabriek – Stroomtoon II
Matthew Florianz – GrijsGebied
Matthew Florianz – Koude Handen
Michel Banabila – Float
Michel Banabila – Music for Viola and Electronics
Michel Banabila – Zoomworld
THANKS AGAIN TO MATTHEW, MICHEL and RUTGER!! (And EDU and VIC!)
(BTW – you cannot specify your preference – prizes are also chosen randomly!)