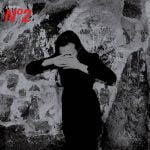 No surprise in the title: "No. 2" is the follow up to Christina Vantzou's "No. 1" from 2011.
The follow-up to a succesfull debut is often referred to as 'the difficult second album' – but not really difficult for Christina Vantzou it seems: the album feels like a natural progression, while at the same time a firm step forward.
"No. 1" was not her first venture into the world of music: in 2004, she performed as half of the The Dead Texan duo, together with Adam Bryanbaum Wiltzie (Stars of the Lid; A Winged Victory for the Sullen).
In 2007, she toured with Sparklehorse, before focussing her attention to creating 'minimal ambient post-classical music'.
Vantzou, who has no formal musical training, created the basic tracks using a MIDI keyboard. The compositions were then arranged for a 15-piece orchestra (the Magik*Magik Orchestra from San Francisco) by Minna Choi. Finally, there were mixed with the help of Adam Wiltzie, whose 'signature' links the sound directly to that of the Stars of the Lid.
The process of creation perfectly merges the sounds of synthesizers with that of the orchestra, leaving enough room for both.
Compared to "No.1", the compositions are somewhat less 'minimal' and somewhat more 'modern-classical' (more like a 'symphony') – resembling the works of Johann Johannsson or Max Richter. In fact, this would make great soundtrack music too (which is no surprise since Christina Vantzou is a video artist herself).
Expanding the orchestra from 7 to 15 (adding bassoon and oboe) results in a majestic sound, positioning Christina Vantzou as one of the important composers of this genre.

Christina Vantzou – VHS