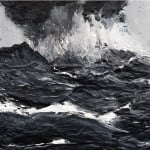 The music of Boozoo Bajou (German duo Florian Seyberth and Peter Heider) has always been quite atmospheric.
The three full albums (and numerous 12-inches) they have released since 2001 contained the low-tempo dubby trip-hop often called 'Lounge' – the lush kind of sounds that German musicians seemed to master exclusively.
Their latest album, "4", manages to build on all they did before, and use it as a foundation to create an album that 'transcends basic categories and expectations'.
Which does not mean that "4" contains 'classic' ambient and drone-tracks – far from that. It's an album that contains a lot of different styles, blending them to a sound that is undeniably Boozoo Bajou's, yet also contains hints of music like Brian Eno, John Hassell or Basic Channel.
"We had that ambient spirit at the back of our mind for a long time. […] Blues, Jazz, Dub and all those roots were the spark, as on all our work, but we used them more as a basis – an original vibe from which we could find our own handwriting."
It is a clear step away from the mid-90's Lounge-scene:
"We never felt based in that [Chillout] scene, but we fell right in those 'golden times' of chillout-lounge stuff. We like laid back music, yes, but […] if there is no deep perception, concept and sincerity implied to the music, it just becomes empty easy listening."
While "4" is not exactly 'difficult' music to listen to ("Doing abstract-noise soundscapes is easy too, but not a very interesting challenge for our project."), it is exactly this musical sincerity and curiosity that makes this such a multi-faceted album.
For this project, Seyberth and Heider brought in some remarkable musicians to help them create their sound, such as Markus Stockhausen (fluegelhorn), Frank Freitag (duduk), Max Loderbauer (synth), Frank Zeidler (guitar) and Stefan Pötzsch (violin, viola and thumb piano).
"4" brings together a lot of different details.
Boozoo Bajou proves that when all ingredients are carefully chosen and fit together, the whole cán be far more than the sum of its parts.
Boozoo Bajou – Hirta