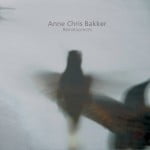 A few months ago I wrote some words about Anne Chris Bakker's beautiful album "Tussenlicht", a self released limited edition CD-R. (If you haven't checked this one yet: the digital edition is still available!)
It's a pleasant surprise to find that his new (first "official") album "Reminiscenses" is now released on Dronarivm, the (Moscow-based) contemporary ambient and modern classical music label curated by Pleq and Dimitry Taldykin.
While "Tussenlicht" can be described as one single composition in four parts, the six tracks on "Reminiscenses" are more separate, stand-alone tracks, each with a somewhat different instrumentation.
Like on his earlier albums, Anne Chris Bakker plays all instruments himself.
In style, the music is loosely related to that of the Kleefstra brothers (known from their work with Piiptsjilling and the Alvaret Ensemble, among other projects), with who Bakker regularly performs. This also means the music comes from improvisation sessions mostly:
"Reminiscences existed with no detailed plan. It is more the result of spontaneous playing and recording over a period of 5 months using guitar, pedals and and a violin bow.
During playing lots of images came up in mind, quite similar to the half sleep state of mind where images and situations flow and bind in an unstructured way.
While playing and listening to the material it opened up a map of lost memories.
This is how I recollect. Reminiscences."
The album's opener "Between the Garden and the Lake" is a striking opener, because it is extremely unhurried. A statement of calm that sets the atmosphere for the rest of the album.
"I thought my heart was calm" starts with a quiet, indefinite, whisper – and takes its time to slowly build a climax which is quite noisy yet still manages to retain its inner calmness.
These two tracks make for the first half of the album. The second half contains 4 shorter tracks (between 2 and 7 minutes in length): piano themes merging with field recordings, drones and a closing ambient track called with the great title "Droesem" (= Dregs).
After "Tussenlicht", my expectations for this album were sky-high.
I'm happy to find that "Reminiscenses" easily lives up!