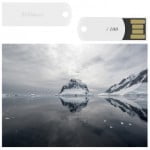 Sometimes, a certain kind of ambient soundscapes are referred to as "glacial". Often, these are dark, slowly evolving soundscapes that evoke a desolate, solitary, atmosphere that can be associated with the vast arctic landscapes (although the sounds are not necessarily 'cold').
"Stillness" , a multimedia project by Esther Kokmeijer (cinematic landscapes) and Rutger "Machinefabriek" Zuydervelt (music) is literally "glacial", because it documents Esther Kokmeijer's journey to Antarctica in january 2013 and to Greenland in june 2013.
The video in 5 parts documenting these trips are subtitled "Millions of Winters, two summers" – with a perfectly fitting musical score performed by Rutger Zuydervelt.
The physical format of this release is the first notable thing: it is a postcard with a small clipped USB-stick attached to it. This USB-stick contains the five (not six as stated) videos in MP4 video format.
Though the 8 Gb stick itself provides more than enough room for it, the sound files are not included; they are provided as a digital download when ordering from Bandcamp.
(Note: there is no audio-download-only version! The limited USB edition (of 100) is selling out quickly, so act fast! At the time of writing, the Bandcamp edition has already sold out; the remaining copies of "Stillness" can be obtained from Esther Kokmeijer's site.)
As the trailer demonstrates, the videos are not dark – as some would probably expect for 'arctic ambient videos'. On the contrary: they are bright, sometimes even sunny, highly detailed (and extremely beautiful) views of drifting ice and arctic water. You can almost see how cold this water must be!
The accompanying score is Machinefabriek at his very best: his tracks support the videos just like a good soundtrack should. There are hints of rhythms, short bass punches and sustained cello chords keeping the drone sounds interesting and dynamic, also when listening without watching the videos. In the closing track, Machinefabriek gets even more melodic than he usually does, introducing a minimalist post-classical cello theme.
The movie and the music are a perfect match.
And apart from that, this project demonstrates this tiny USB-clip is the perfect new medium for releasing multimedia projects like this: it virtually eliminates the dreaded (international) shipping costs!

Stillness (Trailer)