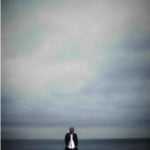 Now there's a cute little package: a 3″ CD packed in a transparent geographical map, packed in a foldout postcard, packed in a beautiful black embossed paper envelope. Oh, the joys of holding a handmade DiY-artwork packages that is obviously created with love..!
Until now I had not heard of Steven M. Halliday in any way, and not much information can be found about him online, although he has "worn many hats throughout his career from producer to sound designer, musicologist to occasional film composer and consultant".
Also, I did not know anything about "A Relation of a Journey" – it was just someone's online recommendation that triggered my interest.
All the greater was my surprise when listening to this little gem: within the short timespan of just sixteen minutes, classical music, ambient drones, field recordings and experimental soundscapes merge into an adventurous musical journey.
Each of the four tracks on "A Relation of a Journey" describes (and was sometimes recorded in) a 'sacred' place.
"The Infinite Expansion", recorded at the Holy Cross Monastery (Ireland), defines the atmosphere with a deep drone sound, fading halfway to make room for a piano composition by James Bacon.
The atmosphere changes with "The Darkness (that describes the Light)", the most abstract soundscape of the set: a live recording of sound manipulations of a one-stringed violin recorded in the cave temples of Mahabalipuram, South India.
A surprising cover of Arvo Pärt's "Für Alina" follows: scored here for two violins (the original composition was written for solo piano).
The closing track, "The Eternal Dance of Light (In the Night Sky)", is perhaps the most 'conventional' ambient music: a short edit of the original 20 minute version of a commissioned piece describing the atmosphere of James Turrell's Roden Crater in Arizona.
According to Steven M. Halliday, "A Relation of a Journey" is "the first installment in an on-going exploration into modern sacred music employing unique instruments and field recordings made whilst visiting sacred sites".
Based on this first acquaintance, I will definitely follow his future journeys with interest!
To order this 3″-CD, contact Steven via info@stevenmhalliday.com
Steven M. Halliday – Für Alina