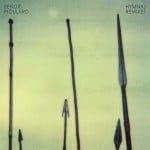 In March 2013 and the months following, Benoit Pioulard (Thomas Meluch) caused quite a stir with "Hymnal", his fourth release for the Kranky label. Inspired by 'the ubiquity of religious iconography and grandiose cathedrals' he had encountered throughout a year spent in southeastern England and on the European mainland, he presented a unique mix of hazy psych-folk songs and ambient instrumental tracks, with the aid of labelmates Felix (Lucinda Chua and Chris Summerlin) and Kyle Bobby Dunn.
Almost one full year later, the 12 tracks from 'Hymnal' get extensive re-workings on "Hymnal Remixed" – a 19-track double album released on the Lost Tribe Sound label.
The list of artists remixing these tracks reads as a 'who's who' of the contemporary ambient music scene:
Fieldhead, Green Kingdom, Brambles, Field Rotation, Part Timer, Segue, Loscil, Radere, James Murray, Ruhe – not mentioning alll! Benoit Pioulard himself delivers a remix of "Reliquary"
On the original album the vocal tracks alternate with the instrumental, bit on this remix-CD's they are placed together so you can choose according to your mood: the first disc is more 'rhythm-oriented', leaving the second disc to explore more ambient territory.
Some tracks re-appear in different remixes by different artists, which offers great insight in their different approach of the material.
Most of the remix tracks are considerably longer than their original counterparts. Surprisingly often, the remixes remain quite true to Pioulards' original 'feel', just adding subtle details or manipulating the original sound – although some of the 'ambient' tracks are pushed into more 'noisy' territory than their originals.
"Hymnal Remixed" is a very adventurous listen, focussing on different aspects and details of the original "Hymnal" album.
It also helps us remember what a fine album Benoit Pioulard's "Hymnal" was (and still is!)