In the Shortlist sections, I will mention the albums that I enjoyed listening to, but couldn't find the time (or the right words) for a "full" review for. Still, I definitely think they deserve your attention, with ór without extra words!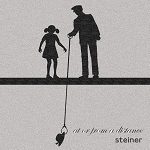 STEINER – AT OR FROM A DISTANCE
A remarkable cover that includes a remarkable album. Steiner (Stijn Hüwels from Belgium) has previously self-released a few albums, but this is his first for a 'real' label. Seven tracks blend in to one continuous, cinematic 35 minute mix.
His smoothly layered guitar sounds are the center of these soundscapes which are "fed by diverse, sometimes contradictory, sources of inspiration, such as nocturnal city walks, the progress and loss of time, routines and improvisation, swimming in the morning and impressions of Japan."
Please note that the physical release will be a limited edition of 50 handmade CD's only! Pre-orders start january, 31.
Steiner – A Longing for Repetition (V)
---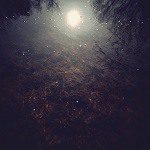 DAVID ANDREE + JOSH MASON – CALL, RESPONSE


The title refers to the way David Andree and Josh Mason collaborated in creating this album: recording material to magnetic tape (!) that was then sent to the other to record an accompaniment in real time with the original recording. The result of this approach is that the sound closely resembles a live performance. The use of magnetic tape, its hiss and its distortion, adds to that live-feeling, and also recalls some of the works from William Basinski.
David Andree + Josh Mason – Winter Into Spring, Further than First Thought
---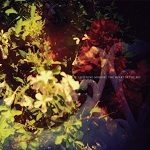 LISTENING MIRROR – THE HEART OF THE SKY
(Expanded and Remixed CD Edition)
Originally released in 2011 as a cassette-only release that was quickly sold out at that time and left the music included on it very hard to find. Jeff Stonehouse has wisely decided to re-release this characteristic beauty as a full CD version including three extra remix tracks (by Wil Bolton, Sleeper and Radio 9 respectively). And rightly so, because this album features some of the finest trademark Listening Mirror sounds: sparse guitar chords embedded in a densely layered environmental soundtrack.
"Mixtly Sleeps" features the seductive, whispering vocals of Alicia Merz akaBirds of Passage (who accidentally also presents her new album "This Kindly Slumber" on Denovali Records this week).
Listening Mirror – The Words Just Won't Come (Sleeper Remix)
---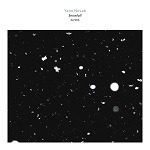 YANN NOVAK – SNOWFALL
Winter has still not really started here where I live, so it's not too late to prepare. This dronescape by Yann Novak may help. It's a 60 minute extract from an original 6 hour audio-visual presentation, "exploring the hushed stillness and isolation sometimes experienced during a snowstorm".
Referring to a 'snowstorm' might suggest loud noises and whipping cold wind, but in fact almost the opposite is true – so I would prefer 'after' instead of 'during' for the description. The sound does have the same kind of quietness one experiences when the world is covered with thick layers of snow.
A fascinating, slowly shifting soundscape that manages to keep the attention full for the full hour (and possibly also for the full six hours too)
Yann Novak – Snowfall (Excerpt)
---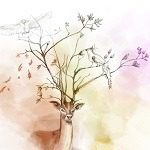 STENBIT – THE FALL


A bright and sparkling sound, as colourful as the image on the cover comes from the Värmland studios in Sweden, home of Stenbit (Stefan Andersson). This is his sixth full length release, some of which can be found on his Bandcamp page. But not this particular one: you'll have to find it on iTunes, Beatport or Juno this time.
But it's worth tracking down, since this "composer of ambient landscapes and library music" definitely knows how to create impressive atmospheres in the 8 tracks of this album which are all present a slightly different angle of ambient music, yet match perfectly.
Stenbit – Arriving