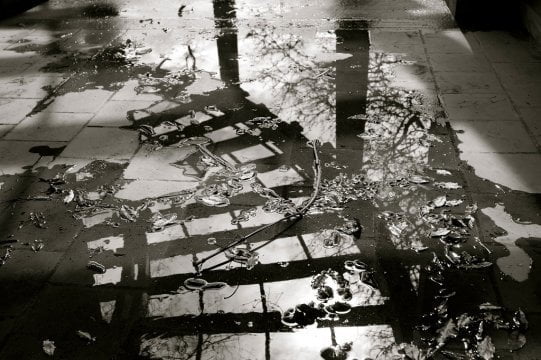 If one of the criteria for 'ambient' music is that you can comfortably fall asleep to it, I guess you'd better skip this particular mix. Although it starts quiet and reassuring with soothing vocal chords from Silvestrov's "The Lord's Prayer", the mood disintegrates and sometimes can become rather unsettling – depending on your own personal 'incidental memories', of course.
For reasons I can't really explain, this mix works better if you listen on speakers instead of headphones – just let the airwaves flow for maximum immersion.
This mix was 'premiered' on Bob Rusche's X-Ray radio-show (Concertzender, Holland) on January 26, 2013. Thanks, Bob!
"Mister Ambientblog himself is doing it again: making an utterly brilliant mix with the sheer beauty containing a wide variety of partly ambient and partly neo-classical sounds. Right from the sacral start with Ben Lucas Boysen and Valentin Silvestrov you will be guided through the chilling soundscapes until you reach the end with the stunning Guy Birkin track. Take this journey and you will never forget the Incidental Memories."
Bob Rusche, X-Ray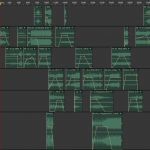 PLAYLIST:
[Track Start] [Sample Length] [Artist – Title]
[Album], [Year], [Label details]
00:00 02:04 Ben Lukas Boysen – Leave
Mother Nature OST, 2013, Hymen Records Y807
01:15 04:33 Valentin Silvestrov – The Lord's Prayer
On Photography, 2005, GB Records BVGBCD07
05:06 02:52 Eric La Casa – Spirale 1 (Version 2)
The Walls are Whispering…Vol.2, 2004, EE-Tapes EE05
05:57 02:20 Bob Ohrum – Song for you (I'll never forget)
Elevated, 2010, Relaxed Machinery rM_0004
07:21 01:46 Adrian Aniol – Dark Passage
Obscura, 2013, Self-Released (Bandcamp)
08:22 02:43 Fieldhead – Broken
They Shook Hands for Hours, 2009, Home Assembly Music HAM003R
09:44 01:25 Jack Dangers – Sooth Siren
Forbidden Planets Explored, 2004, Important Records IMPREC038
10:05 01:35 Bionulor – Temat Ojca
Theatre Music for Skazana, 2013, Oniron ON.002
10:27 02:36 Janek Schaefer – Requiem for West Wittering
Panels. An Inquiry to the Spatial, The Sonic and the Public, 2010, NAim/Bureau Europa
11:46 02:07 I've Lost – Going Under
Sleep Mode, 2013, Relaxed Machinery rM_0009
12:40 02:47 Rafael Anton Irisarri – Scilla Im Scilla
70 Years of Sunshine, Ascent, 2013, Monotype Records mono070
13:56 00:35 Cliff Martinez & Skrillex – Rise and Shine Little B***H
Spring Breakers OST, 2013, Atlantic 7567873178
14:14 03:35 Lucy Claire – Bound in Sea
Sequence 7, 2013, Future Sequence SEQ007
16:52 02:47 Bruce Gilbert and BAW – Creatures of Sea and Air
Diluvial, 2013, Touch TO:87
17:55 02:39 JG Thirlwell – Hanging Curse
Mind the Gap 100, 2013, Gonzo Circus MTG 100
19:28 03:10 Francisco López – Untitled #288
Aquarius, 2013, Dronarivm DR-09
20:03 04:09 Alva Noto – Anthem Berlin (For the Kingdowm of Elgaland-Vargaland)
For 2, 2010, Line Line_044
22:57 03:17 Runar Magnusson – Unclean Mind in a Broken Body
Options, 2009, Hljodaklettar ‎– #HKUSB1
26:38 03:17 Florent Colautti – Nanom+
Nanom+/Untitled, 2013, Corps Electriques CD_01
26:48 01:00 Kenneth Kirschner – One Minute For the Stars
One Minute For the Stars, 2011, SEM label SEM 011
29:18 03:36 Pleq and Josco – A Broken Memory
Assembly Field Compilation #1, 2013, Assembly Field AF01
30:58 03:07 Machinefabriek – Eeuw
Mind the Gap 100, 2013, Gonzo Circus MTG 100
32:38 03:08 Biosphere – Sun-Baked
Compilation 1991-2004, 2012, Biophon Records BIO7D
34:50 01:05 Andrey Dergatchev – Japan
The Return, 2005, ECM Records ECM 1925
35:34 04:24 Julia Kent – Only Child
Character, 2013, Leaf BAY 80CD
38:42 02:04 M. Rösner – May0105
Incidental Amplifications, 2006, Room40 EDRM405
39:35 02:51 Volume Settings Folder – Arborea Ospiza
Ivan Hoe and Other Tales, 2012, Organic Industries OIC001-V2
40:02 03:12 Ensemble Economique – Interval Signals, Part 1
Interval Signals, 2013, Denovali DEN186
42:35 04:18 Clem Leek – A Modern Hymn for NYC
…And Darkness Came, 2012, Headphone Commute HCD001
43:20 01:44 Andrea Serrapiglio – Bicycles, Football, Volley and Other Sports in a Public Park
Autumn is Coming, We're all in Slow Motion, 2010, Hibernate HB20
45:34 03:18 Altus – Trying to Elude that Darkplace
No-R-Mal, 2009, Just Not Normal JNN050
47:34 03:54 Emme Ya – Sigil Dissolution Drone
Drone-Mind Mind-Drone, 2013, Drone Records MIND-02
48:22 01:44 Valentin Silvestrov – The Lord's Prayer
On Photography, 2005, GB Records BVGBCD07
49:27 03:29 Ithaca Trio – Fluidic Space
New Music from the Delta Quadrant, 2012, Hibernate HB45
51:29 04:30 Eren Silence – Eren I B
Eren I, 2013, Self-released (Bandcamp)
53:00 07:00 Guy Birkin – Tintinnabuli Mathematica 12D
Sequence 7, 2013, Future Sequence SEQ007

Download INCIDENTAL MEMORIES Now 98Mb (60:00 min.)
[Alternative download from Archive.org]
[DTS – Surround Version also available]
[total: 1,259 - today: 1]