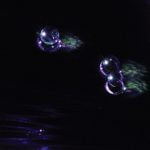 There's a big different between 'just music' and 'sound art' – the latter requiring active participation of the listener/visitor.
A release on Richard Chartier's Line Imprint label is not something you just take for granted, consuming it playing in the background while being distracted by many other things.
So, it may take some time and serious effort investigating the works presented on "Liquified Sky" before these audio-visual works can be fully appreciated. But it's worth the effort!
"The fluidity and even the granularity of light can be unfolded by the senses through active attunement coupled with meticulously orchestrated conditions. Though formerly considered impossible to imagine, let alone perceive, recently, a variety of quantum behavior has been observed on macroscopic scales, from colloidal liquids to biological systems. Liquified Sky documents a series of artworks that pierce this slippery, mesoscopic treshold, departing from the antiquated cult of the illusory, solid-state image."
"Liquified Sky" presents a fascinating and detailed view of "cascades of standing and traveling waves that outline the adaptively resonating lattice of intercellular communication" – four fascinating video studies paired with equally fascinating soundscapes.
"Mucilaginous Omniverse", a fascinating 'oil droplet study', a visual ballet in two parts, is created by Evelina Domnitch and Dmitry Gelfand.
Part 1 includes a soundscape created by COH; for the second half Domnitch and Gelfand created their own soundtrack.
Paul Prudence's "Hydro Acoustic Study", is a"generative cinematic exploration of sonically activated hydrological events", the sonic activation induced by the intriguing soundscape created by Francisco Lopéz.
Evelina Domnitch and Dmitry Gelfrand once again created the astonishing closing piece, "Memory Vapor", in which a "cloud chamber, combined with a particle accelerator, is illuminated by a pulsating white laser sheet, transforming its -200 degrees gaseous contents into a dynamic prism."
For this track, the sound score is created by Asmus Tietchens.
Although it may help to fully understand the work, you don't have to be a physician or engineer to appreciate the result. Sonically and visually, it's a fascinating trip to a world unknown.
Although the creative process is entirely different, the results are not unlike the fluid slides that were popular in the psychedelic sixties. And yes… it's quite a 'heavy trip' indeed.
It should be noted that "Liquified Sky" is not released as a DVD. It is a Data DVD, containing high resolution audio/visual files, which have to be transferred to a hard-drive to be played back with any application you find appropriate for the task (which might be iTunes, VLC media player, streaming devices, etc.)
I was wondering why this material was not released as a standard DVD, but it turns out this has been given careful thought and the Data DVD format was chosen after long deliberations about compression and a democratic format.
"Isn't plastic media a thing of the past? The future is not limited to an idea of "the TV" or "the Stereo". The data DVD is a conduit … a transport for these moving images. People are free to experience this release in the manner they see fit… including… making their own dvd as well."
And rightly so. The 'conduit' is needed because not everyone has full broadband access to download files this size, but in the future physical media will be completely superfluous – except for physical media collectors of course.
Once again, Line Imprint delivers a project of audio-visual art one would usually only encounter in rare museum installations or at multimedia art festivals….to be enjoyed at home.
Liquified Sky trailer