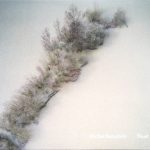 Beginning his career in the early 80's, Michel Banabila's albums covered many different styles.
So many, in fact, that his place in music was a bit difficult to pinpoint which sometimes seemed to confuse critics as well as potential audiences.
His albums presented world music, jazz, theatre play soundtracks as well as electronic music of the abstract or ambient kind – all kinds of genres which Banabila seems to be able to cross over with ease.
In recent years, his output became more focused on experimental electronics. There were collaborations with Machinefabriek, Scanner, Zenial, Radboud Mens, and multimedia performances with Geert Mul and Gerco de Ruijter (who also created the striking cover image for this album)
Nothing wrong with abstract electronics of course (on the contrary), but it should not be forgotten that apart from creating impressive abstract music, Banabila also has a distinct way of composing more melodic instrumental pieces of a very different kind. Pieces that often gain extra depth with the contributions of a variety of guest musicians.
"Float" is a compilation album that helps us remember exactly that!
The eleven tracks on this compilations demonstrate Banabila's more 'radio-friendly' side.
(I mean serious music radio here, not just hit-list rotators).
There are two exclusive tracks (a string version of "Ears Tell Us Where We Are in Space", and the title track) – the remaining tracks are taken from previous releases "Migrations", "Traces", "Route Planner", "Fields of Flowers" and "Precious Images".
The album selection fits together remarkably well, as if all tracks were composed especially for this album. The sound production is flawless – as always – and there are impressive contributions by artists like Anton Goudsmit, Eric Vloeimans, Michel van Schie, Salar Asid, Anne Bakker, Mete Erker, Mehmet Polat , Yasar Saka and more.
"Float" may not bring much new music for those already familiar with Banabila's work. But it's a perfect introduction to his music if you're relatively new to his 'more melodic' side!