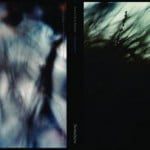 The name may not immediately sound familiar, but "Anne Chris Bakker" should ring a bell if you carefully checked out the releases by Jan and Romke Kleefstra (internationally acclaimed for their Frysian soundscape poetry and Piiptsjilling collaboration with Machinefabriek and Mariska Baars).
Anne Chris Bakker has worked with them on various releases: "Wink", "Griis" and a live performance cassette released in March 2012.
"Tussenlicht", recently released on Somehow Recordings (where the physical version is available), is Anne Chris Bakker's second solo project (after "Weerzien", 2012). Its dreamlike poetic atmosphere is definitely resembling the Piiptsjilling/Kleefstra recordings, and yet there is something remarkably different…
Together, the tracks tell a short story from their titles alone: "Winter", "Tussenlicht" ('Dusk'), "Trage Lichamen" ('Slow Bodies'), "Ochtend" ('Morning').
The careful placement of sounds, the way the four tracks merge into a single composition that slowly but inevitably builds into a restrained climax (literally!) feels as if this could have been a spontaneous improvisation – but it isn't, since all instruments are played by Anne Chris himself. And he obviously masters quite a few: from piano, guitar, bowed strings to electronics and field recordings.
Bakker carefully balances short melodic fragments and themes with stretched soundscapes that convey a feeling of timelessness.
This storytelling balance has a very special effect: although the album is only 37 minutes long, each time I listen to it I feels as if I have just woken up from a refreshingly deep sleep. Which makes me wonder: could this be the sonic version of the revolutionary Wake Up Light?
But, jokes aside: like the first Piiptsjilling albums in 2008/2009, this album is in danger of staying below radar and reaching only a small audience.
But (like those Piiptsjilling albums) it shouldn't!
I really hope "Tussenlicht" will find the wider international audience it deserves – because this is one of the most remarkable releases I have heard this year.
Don't miss it.