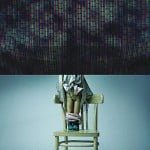 Compared to his previous album with reworkings of Erik Satie's music, Bionulor's "Theatre Music" is spectacularly different in sound.
But not in approach, however, since for this music Bionulor also applies his "100% sound recycling method", which means he's strictly re-using pre-recorded material: classical instruments for "Coriolanus", and voice recordings from actress Sylwia Oksiuta performing "SKAZAna".
Although in both cases, the source is not easily recognisable.
Knowing that Sebastian Banaszczyk (Bionulor) is an actor by profession, it is not really surprising that he also creates music for theatre productions.
What ís surprising, is the way this music turns out to be a spectacular listen even if detached from the corresponding theatre plays.
Both albums are created for quite different theatre productions, but are offered as a 2 CD set totalling almost two hours of compelling abstract theatre music.
"Coriolanus" is a 'somewhat refreshed' version of the Shakespeare tragedy 'embedded in realities of a political and media 21st century spectacle'.
If you think the recycling of classical instrument lead to post-classical compositions, you are wrong. These are quite hard-core, raw electronic soundscapes, the atmosphere suggesting that the 21st century transition of the original Shakespeare tragedy is not an optimistical play to watch.

BIONULOR – TEMAT ZEMSTY AUFIDIUSA AKT 3
('Revenge on Aufidiusa, Act 3') (from 'Coriolanus')
Neither is "SKAZAna" ('Sentenced'), probably: an authorial monodrama by Sylwia Oksiuta, dealing with "the subject of a girl sexually abused by her stepfather" – hence the somewhat provocative album cover image.
Sylwia's voice recordings are stripped to the bare essentials, not even recognisable as 'human' anymore – which may thematically be perfectly in line with the play's theme.

BIONULOR – SAMOBÓJSTWO
('Suicide') (from 'SKAZAna')
Thematically, both plays deal with dark themes an will obviously not be easy to watch, and the accompanying music is not exactly 'easy listening' either.
But in this case, that is definitely meant as a recommendation!