This year's fall sees the (somewhat) simultaneous release of three albums that feature the trumpet as their main instrument, pairing its sound to an (ambient-) electronic background.
And here's this review's spoiler: if you like one, you'd probably like all three!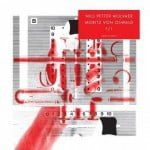 NILS PETTER MOLVAER & MORITZ VON OSWALD – 1/1
On his latest release, "Baboon Moon" (2011), Nils Petter Molvaer explored guitar-based soundscapes, but his latest takes a completely different turn. Of course, Molvaer's music has always searched for a delicate balance between the organic, emotional sound of the trumpet and abstract electronics – and Moritz von Oswald (of Basic Channel/Rhythm & Sound fame, to name just two of many) has previously ventured out into jazz areas, especially with the Moritz von Oswald Trio.
But this collaboration brings both artists' music up to a completely different level.
'1/1' sounds as if Nils and Moritz were destined to work together from the start.
Molvaer's albums have always featured adventurous electronic background samples, but there was always an 'organic' feel to that. Using his 'Basic Berlin' style minimalist techno dub, Von Oswald's approach is quite different, providing an almost static rhythmic background for Molvaer's trumpet improvisations.
While on his previous releases the trumpet sound was sometimes heavily processed with effects, here it is kept clean to keep the balance with von Oswald's Berlinesque otherworldliness. The tracks take all the time they need to develop ('Transition' even clocks into a full 15 minutes) yet at the same time their basic pattern stays extremely minimalistic. The effect is mesmerizing and hypnotic.
Note: at the moment of writing, I only found a link to Amazon or iTunes to order this album (the Emarcy site routes to rounder.com – ??) – Better check your local record shop for ordering this album, I guess!



NILS PETTER MOLVAER + MORITZ VON OSWALD – FUTURE
---
ARVE HENRIKSEN – PLACES OF WORSHIP
Nils Petter Molvaer and Arve Henriksen may have more than a few things in common. Most notably their playing style – which is greatly inspired by the legendary Jon Hassell – and the way they incorparate sample electronics in their abstract, unmistakable Nordic, musical landscape.
Henriksen's interest in Japanese music (the sound of the shakuhachi especially) and Zen Buddhism was, in fact, triggered by a cassette Molvaer gave to him.
Arve Henriksen is a man balancing extremes. It may be hard to relate the aggressive improv music of Supersilent (of which he is a member) to the zen-like calm of his solo albums.
With the help of people like Jan Bang, Erik Honoré and Eivind Aarset (indeed: some more links to Molvaer) he delivers another masterpiece with this album, dedicated to different "Places of Worship".
The sound pays hommage to Jon Hassell as much as Miles Davis – but comparisions often fail, and in fact Arve Henriksen deserves his own rightful place in the Gallery of Greats.
From the ten tracks on this album, seven are instrumental. The vocal tracks include Henriksen's own voice and Erik Honoré performing his "Shelter from the Storm".
Personally, I'm not particular fond of Henriksen's slighty unsteady soprano voice. I can't help wondering how "Lament" and "Abandoned Cathedral" would have sounded when the vocal part would be performed by a classically trained voice. Would it get too perfect then? Do these slight imperfections make this music more 'human' or 'worldly'? (Or is is just my taste?).
In a similar way, I had to take some time to get used to Honoré's vocals on "Shelter from the Storm", concluding the album. The intimate, whispered voice, paired to the sparse but incredibly beautiful arrangement make this one of the most moving love songs I know.
Don't be misled by the somewhat gloomy cover images: Henriksen definitely delivers another classic.

ARVE HENRIKSEN – LE CIMETIÈRE MARIN
---
SAFFRONKEIRA + MARIO MASSA – CAUSE AND EFFECT
From Scandinavia to Sardinia, which is where both Eugenio 'Saffronkeira' Caria (Electronics) and Mario Massa (trumpet) come from. Saffronkeira's third album is his first collaboration. He invited Massa to play together after he saw him play on television, impressed by his 'immersed playing style'. In return, Massa had always wanted to play with an electronic music artist. When the two finally met and started playing together, "Massa improvised over Caria's compositions, Caria added layers to Massa's play, there was not the slightest disagreement about the sound and dynamics of their tracks. The instruments of the two musicians wander unerringly through the musical landscape, from warm ambient sounds to rather abstract pieces, from thrilling hymns to threatening sound storms, but they never loose contact."
Neither Caria nor Massa step forward to 'take the lead', their performance is in perfect balance – the respect they have for each other is easily felt and heard.
It would've been interesting to compare the coming from the Mediterranean compared to that coming from Norway, but in fact I think it's hard to pinpoint geographical influences (although they may be found if you look hard enough).
While Nils Petter Molvaer and Arve Henriksen bring their extensive musical experience, Saffronkeira's (who started this project in 2008) is a relatively young project, and while Molvaer and Henriksen have worked with a gazillion of other artists, this is Saffronkeira's very first collaboration.
Although these three albums each are different in their own right, there are also similarities. When listening to these three albums, I feel they are somehow related to each other, as if they were meant to be a triple album.
All prove that combining electronics with an ultimate 'human-voiced' instrument like the trumpet can have powerful and overwhelming results.
I guess that leaves no choice to check out all three!
release date: november 29, 2013 on Denovali Records

SAFFRONKEIRA & MARIO MASSA – PITY