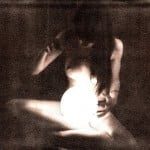 Most of the time I try to review albums as if they were a debut release, without historical context about the artists involved, and presented without packaging.
It's arguable, I know, but this way I try to let the music do all the work and listen to it as unbiased as possible.
This is why I wish I had NOT seen the package images for this release of Lyndsie Alguire's "Clair Obscur" .
For now I somehow feel like the guy that keeps arguing he ónly reads Playboy Magazine because of its interviews…
"Clair Obscur" is a recent release in the Special Edition series of Time Released Sound: hand-crafted meticulously into very special (and I might say 'luscious') packages that are pieces of art in itself.
Since one cannot just simply review a Time Released Sound release without mentioning the package, I'll quote the description of this "Clair Obscur" edition:
"The package will incorporate beautifully printed reproductions of 8 polaroid prints taken of her by her photographer friend, Mat Guerin. The 8 prints, after each being hand typed upon, will be hinge mounted to both sides of a folded, 15″ long, 100 year old educational flash card….each with somewhat strange unfinished sentences thereon, which may be read by lifting back the photos. This fat little photo booklet, with hand stamped mini disc in sleeve, and insert, will come in a hand stamped and adorned 4.5″ square envelope. In an edition of 100 copies."
I'm pleased to say that the music is a pleasant and very enjoyable surprise, too!
On "Clair Obscur", Lyndsie Alguire presents a well balanced (though, with 22 minutes, a bit short) album, balancing pleasant and light-hearted piano tracks with somewhat darker layered soundscapes opening and closing the album (with "All Possible Stories" taking up about half this album).
I remember a discussion on the ambient mailing list a few years ago, about 'women in ambient', wondering why there were so few female artists creating ambient/electronic music. Things have definitely changed, for nowadays there are a lot more women on the scene than before (as musicians as well as in the audience).
But in the end sex should make no difference. It's the music that counts.
And Lyndsie Alguire's music definitely counts!
By the way:
This album was preceded by two earlier titles that are interesting to check out if (like me) you have not heard about Lyndsie Alguire before: "Suspended in Light" (2011) and "After Image" (2013).
Both albums were released on Camomille netlabel (which offers a lot of interesting and free downloads), and can be downloaded on a Name Your Price basis (which also includes free, but you should of course consider a donation!)

LYNDSIE ALGUIRE – I WAS DREAMING OF YOU
And as another aside: for another (and recent, so possibly still available) example of the Time Released Sound special editions you should also take a look at the deluxe version of "Listen to my Nerves Hum" by Benjamin Finger).