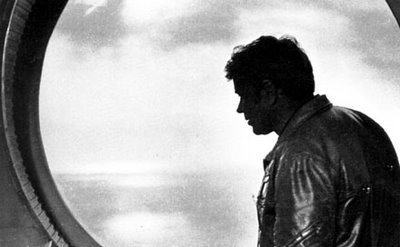 Mentioning Andrej Tarkovsky's 1972 movie "Solaris" as a source of inspiration has become a bit of cliche somehow. This classic movie (we're talking the original Russian 1972 version now) has inspired numerous people, in various fields of art, in its 40 years of existence.
The sparse music soundtrack, created by Edward Artemyev, and the overall meditative ambient atmosphere has also inspired a great deal of ambient music artists.
It also inspired this mix-collage.
Referring to Solaris from a mix like this may not really be in the 'true spirit' of what Tarkovsky meant to achieve: he originally wanted to make the movie entirely without using music at all, and asked composer Artemyev to orchestrate the ambient sounds as a musical score. The latter proposed subtly introducing orchestral music. (source).
The sparse use of musical background, together with the length and slow pace of the movie (a 'meditative psychological drama') has always had a strange effect on me: it puts me in some kind of half-sleep, a kind of state in which where it is difficult to distinguish details, to separate reality from images less 'real'.
A half-conscious state of mind that perfectly matches the movie's theme.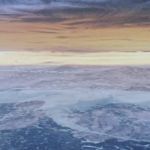 This mix includes many different sources. Some parts of the originals Artemyev soundtrack are linked to fragments of the beautiful game soundtrack from Skyrim, by Jeremy Soule. The cinematic parts are alternated with various electronic soundscape fragments – familiar and less familiar.
Together with many tiny fragments from your own memory, a new – and strictly personal- alternate reality may be created, which (like in Solaris) may be hard to distinguish from real life…
Solaris was originally released in march 1972.
This tribute mix is celebrating this inspiring movie's 40th anniversary!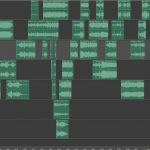 Tracklist
[start time][sample length] [Artist] – [Title]
[Album Title], [Year], [Label #]
00:00 01:06 Barry Adamson + Pan Sonic – The Hymn of the 7th Illusion
Motorlab #3, 2001, Kitchen Motors, km4
01:00 00:57 Jeremy Soule – Solitude
The Elder Scrolls V Skyrim Original Soundtrack, 2011, Bethesda Softworks, 20-65221/4
01:38 01:19 Digitonal – Polaris
Leaving Eleven, 2011, Leaves LVS001
02:25 02:15 Sun Hammer – A Dream in Blood
A Dream in Blood, 2012, Future Sequence FS002
03:21 03:28 Bass Communion – Citadel
Cenotaph, 2011, Tonefloat tf116
04:43 03:31 Bpolar– Nag Champa
Dhupa, 2012, Feedbackloop Label fbl022
07:28 03:30 The Kilimanjaro Darkjazz Ensemble – Past Midnight
From the Stairwell, 2011, Denovali DEN86
10:08 02:31 Chris Watson – By Kelso Dunes
Recorded in the Field by…, 2006, Gruenrekorder Gruen 033
10:51 03:13 Skare – To the other Shore
Solstice City, 2009, Glacial Movements Records GM005
13:06 02:21 The Boats – I'm not a Pessimist, I'm Sad
The Ballad of the Eagle, 2011, Our Small Ideas OSI007
14:32 03:39 Pietro Riparbelli – The Dome, Orvieto
Four Churches, 2010, Touch Spire 4
16:45 06:32 Penjaga Insaf – Melting Pot
To Whom it May Concern, 2005, Shortwave Transmission SWT01
22:32 01:47 Eduard Artemyev – Solaris-Dream
Solaris, The Mirror, Stalker, 1990, Torso Kino, CD5001
24:00 02:46 Jeremy Soule – Sky Above, Voice Within
The Elder Scrolls V Skyrim Original Soundtrack, 2011, Bethesda Softworks, 20-65221/4
25:42 03:40 Eduard Artemyev – Solaris-Dream
Solaris, The Mirror, Stalker, 1990, Torso Kino, CD5001
27:56 04:36 Christina Vantzou – 1111 (Dustin O'Halloran Remix)
No. 1 Remixes, 2012, The Numbered Series TNSCDDVD
30:42 03:55 Oophoi – Bisbigli Di Angeli Tra Cielo e Terra Part 1
Il Silenzio di Dio, 2011, Databloem DB035-2011
34:08 01:11 Machinefabriek – Sol Sketch 7
Sol Sketches, 2011, Self Released
34:29 02:30 Bgudna – Maybe Warm Blooded
Other Plans for Field Experience, 2011, En Stillhet som döden netlabel
35:55 01:20 Luigi Turra – Aura
Iron: Dragon's Eye Sixth Anniversay, 2012, Dragons Eye Recordings 2012
36:42 01:45 Jan M. Iversen – Morning has Broken Bones
Standalones, 2010, TIBProd Mp3 album 100
37:17 02:54 Simon Whetham – Part First (An Uncertain Distance)
Prayers Unheard, 2011, Dragon's Eye Recordings – de5032
37:57 03:25 Listening Mirror – Venice Boxhead
Resting in Aspic, 2012, Hibernate HB39
40:34 01:52 Restive – G2 000041
[M201127-09] G2.1, 2011, self-released
41:06 02:50 Wesolowski + Kaliski – 271011#3
281011, 2012, Few Quiet People
43:00 02:00 Longina – Oidar
Essays on Radio; Can I Have 2 Minutes of Your Time, 2005, Crónica 020~2005
43:59 03:00 Porter Ricks – Porter Ricks Mix
Replay Debussy, 2003, Universal Music (Germany) 472 801-2
44:55 02:32 Eduard Artemyev – Solaris III
Solaris, The Mirror, Stalker, 1990, Torso Kino, CD5001
46:40 03:30 Hybernation – Occident Express
Sequence 2, 2011, Future Sequence
48:53 02:36 Jeremy Soule – Death in the Darkness
The Elder Scrolls V Skyrim Original Soundtrack, 2011, Bethesda Softworks, 20-65221/4
50:56 02:16 Jeremy Soule – Into Darkness
The Elder Scrolls V Skyrim Original Soundtrack, 2011, Bethesda Softworks, 20-65221/4
52:26 04:03 Listening Mirror – Without Saying Goodbye
Resting in Aspic, 2012, Hibernate HB39
52:42 02:01 Christina Vantzou – Small Choir (Ben Vida Remix)
No. 1 Remixes, 2012, The Numbered Series TNSCDDVD
54:47 02:35 Human Greed – In Absentia Variations
Fortress Longing, 2011, Omnempathy OMIC2
56:32 01:03 Landfire – Most People were Silent
Incendium III, 2000, Loki Foundation LOKI 54
57:22 01:52 Max Richter – The Camp
Elle S'Appelait Sarah OST, 2010, Jade 6997269
59:15 End

Download Solaris Mindset Now 99Mb (59:15 min.)
[DTS – Surround Version also available]
[total: 1,803 - today: 1]