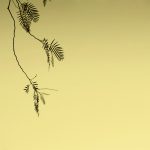 This mix obviously found its name from the lovely intro (and outtro) track by Nest.
Inbetween, there are many moments of 'stillness', too… Moments you may slowly drift off into the drones, letting your mind wander … to be pulled back again by some of the post-classical 'anchors' in this mix by Winged Victory For the Sullen, Human Greed, Vladimír Gódar, and Maya Beiser (member of Bang on a Can, with a stunning cello performance of the Djivan Gasparyan composition 'Memories').
Most of the tracks featured in this were released in 2011. But this mix is nót intended as a "Best of.." overview. That would result in a mix with an entirely different atmosphere (- and much longer, because one hour would not be enough to cover all the great releases I have enjoyed in 2011).
Maybe it's a good way to start a new year with a small opportunity to retreat from current society's turmoil, and to find some time to 'cocoon' to the sounds (and the sometimes fascinating depths) of 'Stillness'.

Some word of warning, however: if this suggests this mix only contains warm, comfortable and pleasurable sounds, be prepared for some suprises.
I never said that "Stillness" always means "Comforting"…
Best wishes for 2012 to all of you!
Tracklist:
[start time][sample length][artist – title]
[album details]
00:00 05:55 Nest – Stillness
Body Pilot, 2011, Serein SERE 11.3
04:04 02:07 Electricity
private collection, 2011, not on album
04:44 02:33 I8U – Toluene
Surface Tension, 2011, Murmur Records MMR10
06:32 01:29 Cliff Martinez – I'm Sick
Contagion Soundtrack, 2011, Watertower Music WTM39266
07:09 05:01 Esther Venrooij – Vessel
Vessel, 2011, Entr'acte E104
08:43 03:34 Leah Kardos – The Waiting
Feather Hammer, 2011, Bigo and Twigetti
11:15 03:02 Lance Olsen – The Creature that Drank Sound
Au Clair de La Lune, 2009, Infrequency IN005
12:05 08:10 Bass Communion – Cenotaph
Cenotaph, 2011, Tonefloat TF115
18:16 02:45 A Winged Victory for the Sullen – A Requiem for the Static King
A Winged Victory for the Sullen, 2011, Kranky KRANK157
20:33 03:57 Vladimír Godár – Postludio – Mantra
Querela Pacis, 2011, Pavian Records PM0050-2
23:16 06:27 Human Greed, Michael Begg, Colin Potter – Deshret
Fortress Longing, 2011, Omnempathy OMIC2
28:13 03:10 Carbon Based Lifeforms – System
Twentythree, 2011, Ultimae Records, INRE047
30:27 02:07 Kirill Platonkin – Stellar Seeds (Original)
Purified by the Fire, 2011, ADX 035
30:51 06:02 Sister Waize – Side Time Down
A Dawning of Wonder, 2011, self-released
36:17 02:16 Spectra Ciera – Unlit Pathway
Underpass, 2011, Feedback Loop Label FBL020
37:02 02:21 Justin Bennett – Tiergarten 1
Wildlife, 2008, Spore Records Spore 2007
38:26 03:16 Jacaszek – Windhover
Glimmer, 2011, Ghostly International, GI-147
40:50 03:01 Tom Lawrence – Moore's Well
Water Beetles of Pollardstown Fen, 2011, Gruenrekorder GRUEN 087
41:51 04:08 Pascal Savy – Reflective Shadow
Liminal, 2011, Feedback Loop Label, PHBL02
44:39 02:53 Jan M. Iversen – Wolfsburg (Long)
Standalones, 2010, TIBProd 100
45:28 01:03 Paul Schütze – Sacred Agents
New Maps of Hell, 1992, Big Cat UK Records ABB 104 CD
46:57 00:49 Chris Watson – El Divisadero
El Tren Fantasma, 2011, Touch TO:42
47:16 01:47 Chris Watson – Sierra Taramuhara
El Tren Fantasma, 2011, Touch TO:42
48:12 01:31 Israel Martinez – There Were People II
El Hombre Que Se Sofoca, 2011, Sub Rosa SR319
48:53 04:46 Maya Beiser – Memories (by Djivan Gasparyan)
Provenance, 2011, Innova 778
52:28 05:32 Penjaga Insaf – Alam Semsta
Sama Sadja, 2010, Power & Steel PAS 27
57:12 02:47 Nest – Stillness
Body Pilot, 2011, Serein SERE 11.3
1:00:00 end

Download Stillness Now 96Mb (59:00 min.)

[DTS – Surround Version also available]