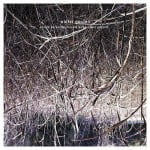 If you are familiar with the works of Harold Budd together with Robin Guthrie  (Cocteau Twins) on earlier classics like Lovely Thunder, The Moon and the Melodies, The White Arcades and Before the Night Falls/After the Day Breaks, you will probably have a good idea what this new album sounds like.
Compared to these earlier albums, "Winter Garden" may hold no radical surprises.
But in case of this particular album that is definitely meant as a positive remark: never change a winning formula, as they say!
For this album, Eraldo Bernocchi  has joined Budd and Guthrie to contribute his production and piano skills. Like Guthrie, Bernocchi has also worked with Harold Budd before, but this album is the first they play together as a trio.
"Winter Garden" is recorded and produced in Tuscany and Southern France, which may explain why this album sounds like the opposite of what the title may suggest: each track is a warm bath of abstract piano themes and reverbed guitar in carefully crafted layered soundscapes.
Perfect album for late-night listening!

Eraldo Bernocchi, Harold Budd, Robin Guthrie – Stay With Me