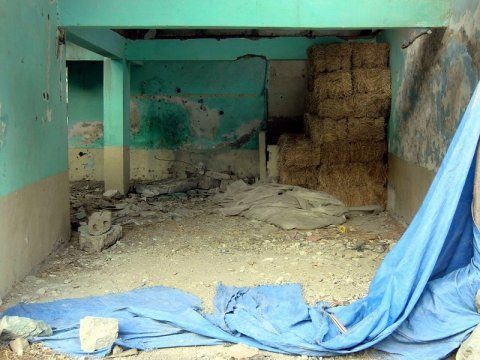 "Teloorgang" is a beautiful dutch word that can be best translated with "Loss" or "Decay".
Some say there is beauty in decay….This may be true, but in fact only when watched from a safe distance – the 'decay' not regarding ourselves or our own environment..
It is, of course, tempting to relate the theme of this mix to the current state of our (western) society.
But that may just be coincidence: this word "Teloorgang" came to mind when listening back the mix after it was finished.
True: this mix is a somewhat darker than some of the others published here. Thus, it perfectly fits in with the season that is up ahead: summer retreats, autumn kicks in, nights getting darker and colder.
Sit back, close your eyes and immerse yourself in the beauty of decay and loss.
(The picture was taken in a small town nearYusufeli (Turkey): an near-desolate area that will be covered with water in the near future when the Dam Project will be completed)
Teloorgang (Decay & Loss) – Sequence Scheme
Playlist:
[start time][sample length] Artist – Title
Album, Year, Label
00:00 01:29 Alexandre Desplat – (stretched string intro)
Tree of Life OST, 2011, Lakeshore Records 
00:50 01:00 Julien Demoulin – Inertia
Just a Moment (V.A.), 2011, Audio Gourmet 
01:17 01:24 MB+ICS – La Eternula Prenis
Con Fuoco D'Occhi Un Nostalgico Lupo II, 2010, Lost Children Netlabel
02:27 03:09 Stephan Mathieu, Janek Schaefer – Fugue
Hidden Name, 2006, Crónica 
02:32 00:26 Martin Lukanov & Mytrip – MT-r- Ml-l (x3)
Two, 2011, Abandonment 
04:10 02:20 Michael Trommer – Pushing Through Gray
In the Bleak Wilderness of Sleep, 2011, Audio Gourmet 
04:32 02:02 Ricardo Villalobos & Max Loderbauer – Rethikiy
Re:ECM, 2011, ECM 
06:04 01:39 Aairial – Piano Impro #1
Together EP, 2011 Imaginary Nonexistent Records 
06:43 04:20 36 – After Time
Memories in Widescreen, 2010, 3six records 
08:50 05:46 Obfusc – Alto Piano
Untitled, 2009, Install 
12:05 04:41 Jacob Kirkegaard – Ravine
Eco e Narciso. Presenze Sonore, 2006, Provincia Di Torino 
15:00 03:17 Ozy & Runar Magnusson – Serenade for Strings in C Op. 48 "Andante Non Troppo-Allegro Moderato"
Tchaikovsky Electro (V.A.), 2004, KAMA Records 
16:22 05:43 Andrew Liles – Song of the Ergophile
In my Father's House there are many Mansions, 2006, Fourth Dimension Records 
19:49 04:50 Mental Youth – Brainwave #03 Embrace
unreleased 
23:13 01:46 Kreng – Karcist
Grimoire, 2011, Miasmah 
24:22 04:37 Jacaszek – Elegia
SMM:Context (V.A.), 2011, Ghostly International 
28:22 02:34 David Velez – Division 2
Vacío Retórico, 2010, Audio Gourmet 
29:44 05:09 Human Greed – Weeping Bees of Heraklion
Fortress Longing, 2011, Omnempathy 
34:17 02:22 Digital Mass – Desolatus Remix
Desolatus Remix, 2011, Petcord 
35:41 02:18 Desert of Hiatus – The Meaning of Sound
The Meaning, 2011, Desert of Hiatus 
37:18 00:55 Machinefabriek – Sol Sketch 21
Sol Sketches, 2011, self-released 
37:36 03:01 Machinefabriek – Sol Sketch 20
Sol Sketches, 2011, self-released 
39:54 03:10 Rui Costa – Untitled
Untitled Songs: 49 Years from Gesang der Jünglinge (V.A.), 2005, Sirr 
42:32 01:42 Restive – G2 000033
G2.1, 2011, Self-released 
43:50 03:56 Amiina – Thoka
Puzzle, 2010, Amínamúsík Ehf. 
46:52 02:39 On – In the Forest of the Night
Your Naked Ghost Comes Back at Night, 2009, Type 
48:48 03:35 Gordon Monahan – Speaker Swinging
Music Dances Itself (V.A.), 2006, Sonic Arts Network 
52:02 02:19 Sublamp – Corner Ghost
In Our Hiding Voice, 2011, Hibernate 
53:45 00:51 Max Richter – Clouds 2
Elle 's Appellait Sarah OST, 2010, Jade 
54:02 02:32 Enrico Coniglio – Waterphonics
Areavirus: Topofonie Vol. 1, 2007, Psychonavigation 
56:03 03:57 Alexandre Desplat – Emergence of Life
Tree of Life OST, 2011, Lakeshore Records 

Download Teloorgang (Decay and Loss) Now 96Mb (60:00 min.)
[DTS – Surround Version also available]