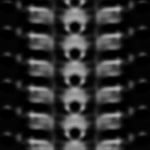 "The Realignment Series Part I, II and III" is a set of over two and a half hour of "Folding Drone Music", as David Mekler (Sister Waize) himself calls it.
The impressive set is offered as a free download from his website, along with some suggestions on how to listen to this music to possibly achieve 'a complete sense of separation from your physical surroundings'.
I can heartily recommend to download and listen to this set to anyone even remotely interested in drone music!
From the very first track it is clear that there's a 'different quality' in these sounds, something that makes them stand out from most of the drone music released recently.
The basic, almost static, and almost unnoticeable evolving patterns originate from somewhere indefinable between organic and mechanic. The chords seem to resonate deep inside (in the same way some of the best work of Eliane Radigue does), and create a comfortable state of unhurried timelessness.
The only exception to that state is the sudden and unexpected ending of "I Place My Hands Across your Chest", which may come as a gentle shock of silence.
There's a remarkable strength in these tracks. I am sure that this comes from the fact that David Mekler does not create music for any other audience than himself. In doing so, there's no need to conform to popular fashion and copy popular trends. It leaves the possibility to create rather uncompromising music that is very 'effective'.

"I make this music with a strict application in mind, that this music is to be used for deep meditation and introspection, I make the music for myself, to use it for this exact thing which is why I am confident in its effectiveness."

It is a wise decision to create the music for his own 'application', since it gives personal strength to this music.
But, needless to say, I am also very glad that David decided to share his music and give it away for free!

Sister Waize – Goaj Tohtanoe (excerpt)