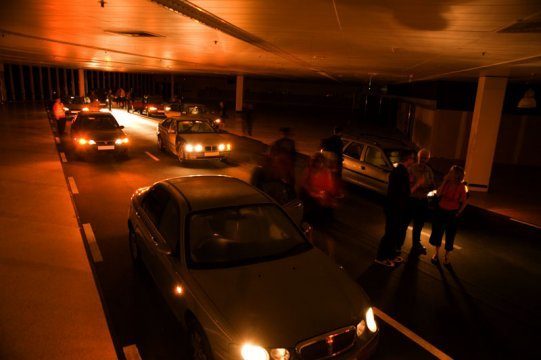 Janek Schaefer's website presents an impressive list of site-location projects that are very interesting to investigate, because they demonstrate Schaefer's perfect balance of concept, visual and sound.
(A few of them, Unfolding and Extended Play, were presented on Ambientblog earlier).
As the Artist in Residence for the 2010 Milton Keynes International Festival, Schaefer presented "Asleep at the Wheel…': a location project for which he completely transformed the deserted Sainsbury's supermarket into a three-lane highway at night, a 'ghost road of cars', where the audio is played from the in-car sound systems. From the car seats, visitors could listen to presentations and interviews thematically dealing with sustainability and the future of the earth, and how we can be able to improve that future.
"The exhibition is a thought provoking and immersive sound installation for multiple car radios, that contemplates our future. Exhibited in a vast disused supermarket, three-lanes of cars dissect the darkened interior, as the multiple hazard lights illuminate the space, revealing the finite road of our consumer driven daydream."
This "Asleep at the Wheel…' installation project is extensively documented in a massive (and FREE!) 348 Mb download, which is divided in three parts:
The first directory contains all background information, photos and a documentary movie.
Another directory features the complete"In-Car soundtracks" (the spoken word soundscapes presented in the different cars) plus a soundscape called "The Ghost Road"  which features the sound that was heard in the hall outside of the cars.
Finally, the package also includes the digital version of the 40-minute"Glovebox Mixtape" which, strictly musically speaking, is the most listenable when 'detached' from the installation, since it contains the soundscapes, without the the spoken word parts that require active attention.
This mixtape, by the way, is also available separately, as a real psysical audio cassette (available on the My Dance The Skull cassette label).
Not included in the download package, but still a very adventurous listen is the 20 minute "Audiotour"  that can be found on the Extra Info Page. 
And finally: for those collectors that can't live without physical media, especially of the special edition kind, Janek Schaefer also presents the Audiofile Box Set edition, presented on an USB Car Key with a LCD Slideshow Keyring  (!!!). Using valuable resources for an electronic gadget like this might be a bit debatable regarding the project's overall theme…but the limited edition package is also of irresistable beauty (ánd very very limited).

Janek Schaefer – Asleep at the Wheel – Car 2 In-Car Soundtrack