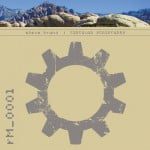 Circular Scriptures is the very first (and until now: only) release of a brand new label: Relaxed Machinery, a label owned by John Koch-Northrup (previously a co-owner of AtmoWorks), claiming that "all artists receive 100% of their release".
That fact alone sounds like a good enough reason to track down this album on one of the major download outlets or get it as CDR from the Hypnos store.
Circular Scriptures indeed sounds like it's created by or with 'Relaxed Machinery'.
The album contains three long tracks, totalling over 70 minutes.
The sounds are extremely immersive, merging environmental nature sounds with washes of synthesizer layers.
Steve Brand has been releasing music since the early 90's under the name "Augur", and started releasing under his own name in 2003.
His discography on Atmoworks is quite extensive, although I must confess that none of these titles are familiar to me. In fact "Circular Scriptures" was my very first acquaintance with Brand's work.
The three tracks included on Circular Scriptures are warm, light-natured ambient soundscapes, nowhere dark in nature. Accessible and comforting synth washes,  with hints of environmental sounds – in fact the kind of music to be expected from a Reiki Master and trained energy healer.
If comparisions ought to be made the sounds of Steve Roach comes to my mind, as well as (non-sequencer) parts of Tangerine Dream.
Steve is intrigued by the idea that "time is not actually linear. Instead, "time" is non-linear, multi-faceted, multi-dimensional, more or less metaphorically running and intersecting in a mind-bending multitude of directions all at once."
If you can translate that concept to a musical context, you might have an idea about the sound of Circular Scriptures.