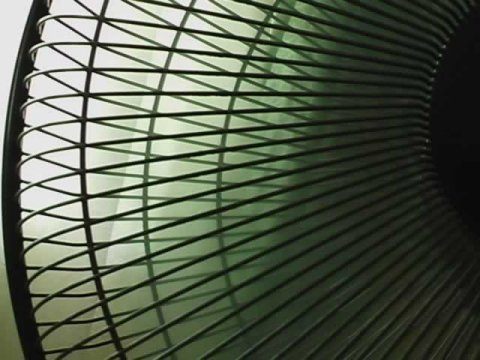 "The Hum in the Room" the final part of the three-part mix dedicated to … the hum in your room!
The buzz that you suddenly notice, that appears to have been there forever but unnoticed – until this moment.
The sound that will be there forever from now.
The hum that appears to come from the inside of your head, and that keeps changing when you turn your head or walk through the room.
The noise that can irritate as well as fascinate.
Or, to quote John Cage from a 1937 lecture: "Wherever we are, what we hear is mostly noise. When we ignore it, it disturbs us. When we listen to it, we find it fascinating. The sound of a truck at 50 m.p.h. Static between the stations. Rain. We want to capture and control these sounds, to use them, not as sound effects, but as musical instruments. "
The other parts of this 'trilogy' (created in 2005) are "The Mantra of Walls and Wiring" and "Acoustical Illusions" (both posted earlier). Together, these three mixes are the most 'minimal' but in my opinion also the most intense ones I created. The title is of course also from the Philip Glass/Paul Simon song feature
PLAYLIST:
Ryoji Ikeda – Matrix (for Rooms)
Matrix , 2001, Touch TO:44
Ryoji Ikeda – 1011111111
Matrix , 2001, Touch TO:44
Akira Rabelais – Notturno (2)
Eisotrophobia, 2001, Ritornell
Brannan Lane – Zone One
Hypnotic Drift, 2003, Sampler CD
Disinformation – National Grid
New Forms, Contemporary Electronic Music in the Context of Art, 2000, Galerie Fuer Zeitgenoessische Kunst Leipzig
Robert Henke – Signal to Noise 1
Signal to noise, 2004, Kompakt ICM 05
Alp – Fax Machine – Toilet Plumbing
At home with Alp, 1999, Soleilmoon 01863
Tamia / Pierre Favre – Solitude
Solitudes, 1992, ECM 1442
Brannan Lane – Mesosphere (part 1)
Troposphere, soundtrack for your head, 2000, World Circle Records, WCD804CD
Oöphoi – Cydron
The dreaming of Shells, 2003, Mystery Sea
Albrecht Kunze – Motion Control
Maschinelle Strategeme, 2000, Ritornell, RIT010
Biosphere – Modifié
Autour de La Lune, 2004, Touch TO:62
Edgar Varese – Poem Electronique
Ohm, the Electric Gurus of Electronic Music 2000, Ellipsis CD3270
Joyi Yuasa – Projection Esemplastic for White Noise
Ohm, the Electric Gurus of Electronic Music 2000, Ellipsis CD3270
Alp – Disk Drive Kettle Washing Machine
At home with Alp, 1999, Soleilmoon 01863
Matthew Florianz – Erik + Matthew -1
unreleased
Michel Redolfi – Desert Tracks – Mojave Desert
Desert tracks, 1988, Ina GRM, INA_C 1005
E-Hum 1 – private collection
Arvo Pärt – Solfeggio
De Profundis, 1997, Harmonia Mundi, HMU 907182
David Shea – Elegy
The Tower of Mirrors, 1996 Sub Rosa SR94
Food Mixer – private collection
Alan Howarth – Sailing Ships Creaks
Real Hollywood Sound Effects, 1997, Gnp crescendo 8054
Thomas Köner – Tu, Sempre
Zyklop, 2003, Mille Plateaux MP118
Thomas Köner – Les Soeurs Lumiere
Unerforschtes Gebiet, 2003, Die Stadt, DS56
Alan Howarth – Ships Interior
 Real Hollywood Sound Effects, 1997, Gnp crescendo 8054
Thomas Köner – Nuuk (Night)
Nuuk, 1997-2004 Mille Plateaux Media MPM 03
Sidsel Endresen & Bugge Wesseltoft – Voices
Out Here in there, 2002 Jazzland 017 368-2 Cas de Marez – Sens (fragment)
PEMCD, unreleased
Matthew Florianz – Elementen
unreleased, 2003
Biosphere – Thermal Motion
Shenzhou, 2002, Touch TO:55
Pauline Oliveros, Panaiotis, Dempster – Ione
Deep Listening, 1989, New Albion, NA 022
Tetsu Inoue – Magnetic Field
Ambiant Otaku, 1994, Fax, PS08/43
David Kwan – +/- IV
Storm of Drones, 1996, Asphodel 966
Tibor Szemzo – Tractatus
Tractatus, 1991 – 1995, 1995, LeoRecords LR 227
Moljebka Pvlse – Jiken
Evolved as One, a collection of Emotional Ambient-Drones, 2003, Evolved as One, EVOL 01
Sleep Research Facility – Back to the Egg
Dead Weather Machine – re:Heat, 2004, manifold MANCD043
Kettel – Electrician and Adventurer
Volleyed Iron, 2004, U Cover, 018
Thomas Gerwin – Air
Wattenmeer Suite, 1996, IAP 011
Quiet American – Night
web download
Note: You may notice some artefacts in the first minutes of this mix, due to the extreme frequencies from Ryoji Ikeda's music not translating to the MP3 format very well.

Download The Hum In The Room Now 93Mb (60 min.)
[total: 1,483 - today: 1]