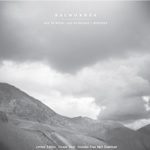 Excuse me for being ignorant, but until recently Balmorhea was unknown to me.
Which is sort of remarkable, since they mention Claude Debussy, Beethoven, Rachel's, Max Richter, Arvo Pärt and John Cage as their influences, and, according to their Discogs Profile, they shared stages with Stars of the Lid, Eluvium, Helios, and many others.
Their latest album is titled 'All is Wild, All is Silent"
'All is Wild, All is Silent' is far from 'ambient electronic'. It may best be described as 'jazzy instrumental folk-prog-rock', if that is of any use. Touching themes in cleverly dynamic compositions that I'd enjoy but would not normally present on this weblog, simply because it doesn't really fit the style..(there's quite a lot of music that I thoroughly enjoy but not present here).
But: Balmorhea appears to have many friends from the contemporary electronic music scene. These friends were asked to use the album's session tapes to toy with, and came up with resulting tracks very, very different in style from the original – most of the tracks even surpassing the original recording in my opinion (but that's of course a matter of taste and depends on what angle you start from).
There's quite a lot of familiar names in this Remix Squad: how about Library Tapes, Machinefabriek, Jacaszek, Helios, Xela, Peter Broderick, Eluvium, Rafael Anton Irisarri ?
Obviously most of the remixers took their freedom to strip the original tracks down to the bare parts they could use, did not hesitate to leave out a lot of the original material and hence completely change the direction of the original composition – like for example Rafael Anton Irisarri did in the sample track presented below.
And that's how it should be: there's no need for a remix to stay close to the original!
I'm aware that I'm stretching the boundaries of this weblog a bit here, because neither the original nor most of the remixes would be classified as 'ambient'.
But I don't want to be too strict about genre-labels: this remix album will obviously appeal to many visitors listening to ambient/experimental/electronic music.
Other than the Dakota Suite companion mentioned in the previous post, this release is still available at the moment, so don't hesitate too long!