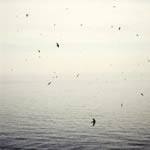 Although ON is mostly presented as a duo, in fact it's better to say that it's a trio. A trio with a very special approach to creating the music: I guess not much musicians immediately 'kill their darlings' after recording them. ON did: by handing over the completed recordings to be remixed and deconstructed completely.
ON is a collaboration project between Sylvain Chauveau (household name of Type Records, among others), and percussionist Steven Hess (Pan American).
For their (2004) album "Your Naked Ghost Comes Back At Night'", they recorded their music and asked Helge Sten (a.k.a. Deathprod) to completely rework it.
And he did, in such a way that this is as much a Deathprod album as it is Chauveau/Hess'.
Deathprod's musical background is a very versatile one, making his name almost legendary: member of Supersilent, worked with Motorpsycho as wel as Biosphere, producing and mixing for the Rune Grammofon label… just to mention a part of his work.
When creating electronic ambient music, his production can almost instantly be recognised: it is deep, dark, haunting, intriguing – always flawlessly recorded and perfect sounding.
Sylvian Chauveau plays prepared and electric guitar, Steven Hess plays drums, percussion and piano – but the instruments are very hard to recognise in the final result. What you hear may more likely remind you of faraway machines in a strange alien environment.
"Your naked Ghost Comes Back At Night And Flies Around My Bed" (full title) is one full hour of fascinating atmospheres, and it easily ranks among the best electronic ambient drone music.
One question remains unanswered: how did the music sound when Chauveau and Hess were finished but before Deathprod reworked it?
It would be nice to compare the results, and I would have like to have seen this re-release include the original recordings.
But on the other hand: we have to respect the fact that the 'unmixed' album was never meant to be published. In this particular and unique case the 'remix' ís the 'original'!
This album was originally released in 2004 but has been very hard to find. Praise to Type Records for saving this from oblivion by re-releasing it.