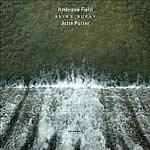 Celebrating their 25th birthday, ECM Records released a recording of the unusual musical combination of saxophone player Jan Garbarek with the Hilliard Ensemble performing ancient vocal music ('Officium', 1994).
An album so stunning it proved to be one of ECM's biggest "hits".
I was lucky enough to attend a live performance of this album in a church in my hometown that year, and amidst all of the concerts I have seen in my life this one especially is one I will never forget.
In 2009, ECM celebrates it's 40th birthday. Could this be the reason they have searched for a musical combination as unusual and maybe even as unheard as on Officium? Maybe they did, maybe they didn't. But to me, 'Being Dufay' has about the same effect 'Officium' had.
John ('Hilliard Ensemble') Potter, world famous tenor, sings fragments of works by composer Guillaume Dufay (1397-1494), who may be counted as one of the most important and progressive composers from that age.
The vocal fragments are accompanied by live- and studio electronics performed by Ambrose Field, multiple Prix Ars Electronica Award winner, recycling and reworking Potter's vocal input.
The result: "Being Dufay" is stunning! But only if you're able to listen completely unbiased and unprejudiced.
The album opens (and closes) with a very calm, withheld and intimate track, in which the electronic score is hardly more than a supporting drone. (The track heard with this blog entry is the opening track: "Ma Belle Dame Souvereine").
But inbetween lies a haunting (haunted?) landscape of treatments, 'a labyrinth, with new vistas to discover but also some wrong turnings and false conclusions' (liner notes by Ambrose Field).
Terrifying sometimes, af if you're attending a performance of ancient music and suddenly find yourself hallucinating.
In some strange way, some of the tracks vaguely reminded me of Scott Walker recordings, and I can imagine he would very much have liked to perform a record like this. (But that's a very wild guess, and of course comparing Scott Walker to John Potter does no right to both of them!)
A great album to celebrate your 40th anniversary with, that's for sure! reading the project website Field & Potter are performing this material live, too. I certainly hope to be able to attend one of these!!
(Off Topic – but not very much: this week ECM also releases the New Jon Hassell album 'Last Night the Moon Came Dropping It's Clothes in the Street', his return to the label since 1986's brilliant Power Spot. I will not review this one here, as a lot of other blogs will probably pick up this one. But it is heartily recommended anyway, because it's beautiful 'classic' Hassell!)