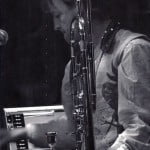 Katendrecht is a typical area in Rotterdam where you can expect to find a lot of things.
But the last thing to expect to find there is a spaceport where you can take a direct flight to Jupiter.
Still, a small venue called De Player created the exciting opportunity to embark on a spectacular journey to outer (inner) space on march 22, 2008. The journey was guided by Lysn, consisting of Hilary Jeffery (on trombone and tromboscillator), Chris Long (accordion and electronics), and Anne Wellmer (analogue electronics and harmonium).
This evening was presented as part # 3 in a series called Com.Post ('Prancing around on the post-digital compost heap of contemporary music').
I wasn't there, that evening. And hearing the recording of this event that was recently released, that's something to regret!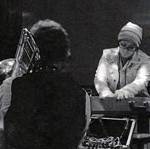 I've mentioned the work of trombone-player Hilary Jeffery before.
He's a man of many styles, but when he's not playing free-jazz or working with the Kilimanjaro Dark Jazz Ensemble (one of the many projects of Jason 'Bong-Ra' Kohnen), he may be found searching for the perfect drone, playing his trombone combined with the self-designed tromboscillator.
Jeffery is a genuine artist doing the things that must be done, regardless of what others may think of it.
Katendrecht Spaceport is not strict drone music, however. The trombone/tromboscillator is the centre of these compositions, but the overall feel is heavy electronic, with a very special analogue sound.
Here, Jeffery is accompanied by his fellow Lysn musicians Chris Long (who studied with Gavin Bryars) and Anne Wellmer. Together they share an impressive experience in improvised experimental electronic music.
That's probably why Katendrecht Spaceport sounds so organic. (Lysn performances may include other musicians, by the way, most notably James Fulkerson)
The Katendrecht Spaceport performance recording is released as a part of the Com.Post series, in a booklet with extensive liner notes.
The complete series contains six releases (Katendrecht Spaceport is #3).
DSPS/DE PLAYER has informed me that they have decided to make the individual items available separately very soon, so keep an eye on their website and  grab a copy of Katendrecht Spaceport without hesitating: it's vintage electronic music which far too few people may ever hear about.
See you on Jupiter!
(For the more experimentally inclined, however the full COM.POST set may be interesting enough: it contains six CD's, booklets and a DVD. But since I only have heard Katendrecht Spaceport I cannot say anything about the other projects in this set. If anyone reading this has heard any other recording from this set please leave a note in the comment section!)